Bald Eagles Honor Veterans, Senior Class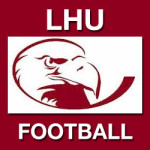 LOCK HAVEN – The Bald Eagle defense came away with four takeaways including three interceptions, but the Lock Haven University football team (2-9) fell to visiting Mercyhurst University (5-6) 23-10 in the 2017 season-finale for both teams on a brisk fall Saturday afternoon at Hubert Jack Stadium.
All four of the Bald Eagles takeaways came in the first half including a pair of interceptions from senior defensive back Carlos Balkcom (Harrisburg, Pa./Harrisburg), who was one of 16 players honored during the pregame as a Bald Eagle graduating senior.
Saturday's game also served as LHU's annual Veteran's Appreciation game as the Bald Eagles honored the veterans in attendance.
Prior to today's opening kickoff, Lock Haven honored its 16 graduating seniors including Balkcom, Corey Blakey(Philadelphia/West Catholic), Chris Bonk (Shenandoah, Pa./Shenandoah Valley), Nick Boumerhi (Philipsburg, Pa./Penn State), Kevin Campbell (Glenolden, Pa./Cardinal O'Hara), Brandon Clements (Lancaster, Pa./Manheim Township), Marcus Disbrow (Grantville, Pa./Northern Lebanon), Trent Fielding (Sunbury, Ohio/Big Walnut), Austin Heinbaugh(Connellsville, Pa./Connellsville), David Lazo (Alexandria, Va./Lackawanna College), Connor Marsico (Harrisburg, Pa./Bishop McDevitt), Terrell Mitchell (Whitehall, Pa./Lackawanna College), Andres Medina-Munoz (Columbia, Pa./Columbia), Devante Oliver (Hughesville, Pa./Hughesville), Cole Renninger (Lock Haven, Pa./Central Mountain) and Daniel Strawbridge (Harrisburg, Pa./Harrisburg).
For Balkcom, the two interceptions ran his season total to seven, which ties him for third all-time on the Bald Eagles single-season list. He finished his sensational Lock Haven career with 12 INTs, which is tied for seventh all-time on the career list.
Stevie Pugh (Coatesville, Pa./Coatesville) also had an interception to go along with a Lock Haven fumble recovery which helped headline a strong all-around defensive effort.
Alex Welch (Hughesville, Pa./Hughesville) finished with nine tackles and Isaiah Flamer (Coatesville, Pa./Coatesville) recorded eight tackles. Dontae Mason (Philadelphia/Bishop McDevitt) made seven tackles to round out the defensive unit's solid outing.
On the offensive side, true-freshman quarterback Kyle Knight (Myerstown, Pa./Eastern Lebanon) led the way as he recorded his fourth 100-yard rushing game of the season. Knight finished with 130 yards on the ground and he also threw for a touchdown.
Knight finished the season (10GP/6GS) averaging 76 rushing yards per game and he ran for eight touchdowns.
During the second half of the season, it was a trio of freshmen who led the Bald Eagle offense and Saturday was no different. Along with Knight, wide receiver Elliot Walker (Williamsport, Pa./Williamsport) and tight end Jalen Jackson(Williamsport, Pa./Williamsport) paced the attack. Walker hauled in three catches and Jackson grabbed two.
With 3:50 left in the first quarter, LHU took a 7-3 lead after John Ford (Etters, Pa./Shippensburg Univ.) snagged a 5-yard pass from Knight.
With just one second left in the first period, Mercyhurst grabbed the lead after an 83-yard run by Garrett Owens. The long Owens run gave the Lakers a 10-7 lead and they added a TD in the second to take a 17-7 lead into the halftime break.
Early in the third, Mercyhurst extended the lead to 23-7 and despite both teams showing success at running the ball in the second, neither could punch another TD in.
A 34-yard field goal from Boumerhi late in the third cut the Mercyhurst lead to 23-10 and capped the game's scoring.
| | | | | | |
| --- | --- | --- | --- | --- | --- |
| Nov. 11, 2017 | 1 | 2 | 3 | 4 | TOTAL |
| MERCYHuRST | 10 | 7 | 6 | 0 | 23 |
| LOCK HAVEN | 7 | 0 | 3 | 0 | 10 |