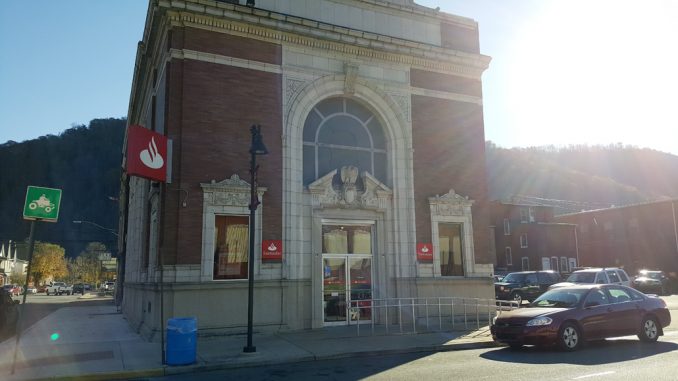 RENOVO – State police say they are relying on Renovo area residents to assist in their investigation into last Monday's daring daylight robbery at the Santander Bank on Erie Avenue. An updated Friday release said the two robbers "are believed to be local as they appear to be familiar with the area."
The two masked individuals, one of them brandishing a handgun, entered the bank and demanded money, leaving with $3,618. Police said the two then fled the scene towards Huron Avenue and possibly down St. Claire Avenue.
Trooper Stephen Dunkle Friday provided this updated information:
"Many witnesses have been interviewed and have provided potential leads which are being used to narrow down a suspect list. Video surveillance from local businesses and residences have also been obtained which have provided additional information. PSP would like to thank those that have come forward with information or video thus far as it has proved to be an invaluable asset to this investigation. The Pennsylvania State Police are continuing to request the assistance of residents of Renovo who may have witnessed this incident or who may have had contact with the actor(s) directly before or after the incident. The actors are believed to be local as they appear to be familiar with the area. The actors may be a neighbor or a friend who has recently expressed concern of money and is now expressing indicators of guilt or remorse to their friends or neighbors. Residents are reminded that in the commission of this crime a firearm was displayed which is concerning to police and should be concerning to residents of this small community. Any minute detail or suspicion should be reported to PSP Lamar 570-726-6000 so that law enforcement may speak to those involved to understand this crime."
While state police did not mention two recent police visits, officers were seen Thursday night in the vicinity of Renovo residences on St. Claire Avenue and 14th Street.
The police Friday release again carried descriptions of the two bank intruders, again not identifying the sex of one of them:
Actor #1: white/male standing approximately 5'6'', husky build, wearing dark two tone hooded sweat shirt, ball cap with a white bandana covering the face with large mirror type sunglasses. He was wearing gray sweat pants with bright red gloves.
Actor #2: stood approximately 6'1", thin build, wearing a gray hooded sweat shirt that had a lime green color accent on the hood.