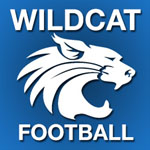 HOLLIDAYSBURG – The Central Mountain Wildcats hung with favored Hollidaysburg for better than half their game Friday night but the home-standing Golden Tigers put together 31 unanswered points in the second half to pull away to a 52-18 win.
The victory put the Tigers at 6-3 on the year, closing the regular season at DuBois next Friday. Central Mountain fell to 1-8 and finishes at 6-3 Jersey Shore next Friday.
The Wildcats matched touchdowns early on with Hollidaysburg. The home team had a 48-yard drive on its first possession to take a 7-0 lead; then Wildcat quarterback Austyn Carson executed a crisp 80-yard touchdown drive, scoring on a 5-yard run and kicking the extra point to make it 7-7. Hollidaysburg, directed by junior quarterback Brady Walters, answered with two 80-yard drives in response and took a 21-7 halftime lead.
Central Mountain got within 21-10 on its first possession of the third quarter. Turner Mader set up the Wildcat offense with an interception he returned to the Hollidaysburg 11-yard line. The Wildcats had to settle for a 25-yard field goal from Carson and would not threaten again until the game's final moments when reserve quarterback Zane Probst lofted a 40-yard scoring strike to J-T Pentz followed by a 2-point conversion from Rocco Stark to set the final score at 52-18.
In between those scores Hollidaysburg scored on five straight possessions to send the game into the mercy rule midway through the final quarter.
Carson had his best night passing, going 7-for-7 in the first quarter and finishing with a 14-23 showing for 203 yards, Probst going 4-for-4 for 69 yards in the final quarter for a season-high 272 passing yards for Central Mountain. Evan Prough had one 67-yard reception and Zach Eck caught seven for 48 yards. Trevor Hanna had four catches for 30 yards, Stark four for 20 and Asher Corl two for 16 yards. Walters paced the Tiger offense with 11 completions on 17 attempts for 179 yards. He also rushed for three touchdowns.
Other Friday scores included: Jersey Shore 31, Bald Eagle Area 7; Bucktail 26, Cowanesque Valley 19; Chestnut Ridge 41, Bellefonte 21; Wyoming Area 42, Williamsport 35.
| | | | | | |
| --- | --- | --- | --- | --- | --- |
| Oct. 20, 2017 | 1 | 2 | 3 | 4 | TOTAL |
| CENTRAL MOUNTAIN | 7 | 0 | 3 | 8 | 18 |
| HOLLIDAYSBURG | 14 | 7 | 14 | 17 | 52 |