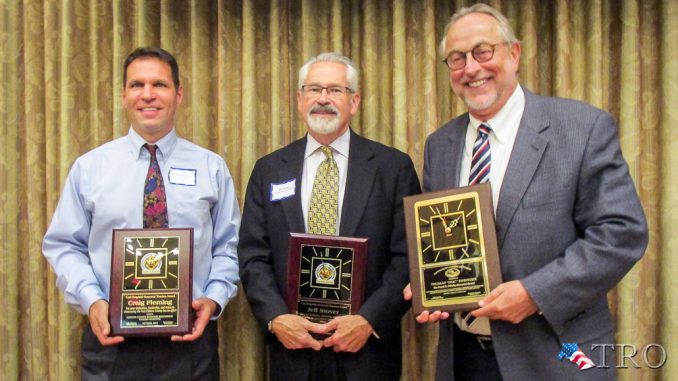 LOCK HAVEN – A longtime local community benefactor and two trailblazing trail run creators were recognized for their efforts at Thursday night's annual Clinton County Economic Partnership dinner.
Thomas "Doc" Sweitzer, a noted political consultant and contributor to the Lock Haven area, was presented the annual Frank D. O'Reilly Award for service to the community. Sweitzer was lauded for his involvement in a variety of area organizations, from Millbrook Playhouse to the Lock Haven YMCA. A former trustee at Lock Haven University, he also donated a considerable art collection to the local school.
Sweitzer said the award was particularly significant to him as it was named for the late Lock Haven Express publisher Frank D. O'Reilly who served as a mentor to Sweitzer's brother, the late Charles Ryan who progressed through the Express ranks to become publisher.
The Carl Bergdahl Award for the promotion of tourism in the county went to Jeff Stover and Craig Fleming. Both were lauded by presenter Bonnie Hannis for their efforts in showcasing the natural beauty of the area. Stover and Fleming were instrumental in establishment of a number of year-round trail races which have attracted thousands of runners from all over the eastern United States over the 15 years or so they have been in operation.
Fleming noted the annual Hyner Trail Challenge has grown to a participation level of 1,300 runners. He said Clinton County has become known as a hotbed for trail races.
Partnership President/CEO Mike Flanagan announced that the annual dinner at LHU's Durrwachter Alumni Conference Center attracted a record turnout and the partnership membership is at an all-time high. He thanked event sponsors and the innumerable businesses, large and small, which provide jobs in Clinton County.