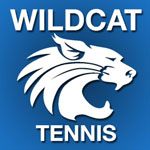 BALD EAGLE TOWNSHIP – Central Mountain opened up play in the first round of the District 6-9 AAA girls' tennis tournament with a a 5-0 shutout win over DuBois.
In singles, CM's Jolee McCluskey defeated Alexis Strouse, 6-0, 6-2 at No. 1 while Lady 'Cat, Kendall McCluskey took care of Alexa Zartman, 6-3, 6-4 at No. 2 with Katherine Strouse added another win for Central Mountain, taking down, Alaina Heberling, 6-0, 6-3 at No. 3.
Lady Wildcats, Natalie Brown and Jess Piergallini defeated Haley McAninch and Sarah Peters, 7-6, 6-3 at No. 1 doubles with Olivia Anastos and Caitlyn Dale closing out the day with another win for CM over Gabby Hennchs and Kaycee Vanchure of DuBois, 6-2, 6-4 at No. 2.
The win takes the Lady Wildcats record to 15-3 for the season.
The next task is a little tougher for Central Mountain as they will travel to Altoona tomorrow, Tuesday, Oct. 17 to take on the No. 1 seed, Lady Mountain Lions. The Lady Wildcats battled Altoona back on August 31, falling 4-1 to the Lady Mountain Lions.
At the same time tomorrow, No. 3 State College will travel to No. 2 Hollidaysburg. The winner of the two matches on Tuesday will meet Wednesday, Oct. 18 at the site of the highest seed for the D6-9 championship title.
CENTRAL MOUNTAIN 5 – DUBOIS 0
1 Jolee McCluskey CM def Alexis Strouse 6-0 6-2
2 Kendall McCluskey CM def Alexa Zartman 6-3 6-4
3 Katherine Strouse CM def Alaina Heberling 6-0 6-3
1D Natalie Brown/Jess Piergallini CM def Haley McAninch/Sarah Peters 7-6 6-3
2D Olivia Anastos/Caitlyn Dale CM def Gabby Hennchs/Kaycee Vanchure 6-2 6-4