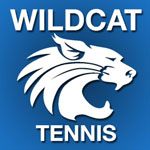 ALTOONA – Central Mountain fielded two doubles teams to participate in the PIAA AAA District 6-9 tournament.
Katherine Strouse and Natalie Brown won in their round of 16 match against State College's duo of Amelia Dodoo and Keya Ahrestani, 7-6, 5-7, 10-6. Brown and Strouse then fell in the quarter finals to eventual finalists, Chloe Love and Peyton Ruggery from Hollidaysburg, 6-3, 6-2.
Jolee and Kendall McCluskey won their quarter final match over another State College team of Kelly Vanden and Catelyn Janac, 7-6, 5-7, retired but then lost in the semi-finals to Veronica Helsel and Jenee Delereme of Hollidaysburg.
The Lady Wildcat team will compete in a first round District 6 match at home on Monday, Oct. 16, 2017 at 4 p.m. against DuBois.