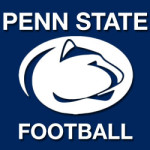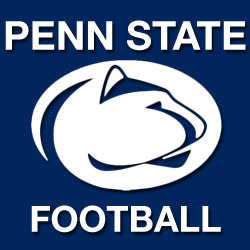 EVANSTON, ILL – The Penn State defense was solid throughout and quarterback Trace McSorley picked up the slack when Northwestern keyed on Saquon Barkley Saturday. The result was a 31-7 Nittany Lion win, finishing the first half of the regular season with a 6-0 mark.
Northwestern kept Barkley in check in the first half but McSorley, after a 0-for-3 start, stepped up, at one point completing a team-record 15 straight passes as Penn State slowly pulled away. McSorley finished with 25 completions on 34 attempts for 245 yards and one touchdown. The old mark of 14 straight completions was held by Kerry Collins in the 1994 season.
Barkley meanwhile was held to minus-one yard rushing in the first half but finished with 16 carries for 75 yards and two touchdowns, including a 53-yard rushing score.
Post-game notes included:
With their sixth win, the Nittany Lions are bowl eligible. Penn State has appeared in 47 bowl games.
Franklin has led his teams to bowl eligibility in each of his seven seasons as a head coach.
Penn State is 15-1 in its last 16 games, the best span since going 20-0 from 1993-95.
Penn State is now 14-5 against Northwestern with a 7-3 mark in Evanston.
Penn State has started a season 6-0 for the first time since 2008, when the team started 9-0.
This is the first time that James Franklin has led his squad to a 6-0 start on the season in his head coaching career.
The 3-0 start in Big Ten play marks the first such start since 2012, when Penn State also began 3-0.
With the victory over Northwestern, Penn State now has 12 consecutive wins over Big Ten opponents. The streak entered the day tied for No. 3 among active FBS conference winning streaks. It is also the longest streak for Penn State since a 12-game spurt from 1993-94.
Penn State has won 14-straight regular season games, the longest streak since reeling off 18 in a row from 1993-95.
Penn State held Northwestern off the scoreboard in the first quarter and is the only FBS team to not allow a score in the opening frame this season. Penn State is outscoring its opponents 76-0 in the first quarter this season.
Penn State has forced at least one turnover in seven-straight game dating back to the 2017 Rose Bowl, its longest streak since forcing a turnover in eight-straight games in the 2014 campaign.
The Nittany Lions forced three turnovers for the second-straight game, marking the first time since 2015 that Penn State has had back-to-back games with three or more turnovers (San Diego State and Army).
Penn State has forced 17 turnovers in the first six games, which is the most turnovers forced in a six-game span since 1993.
The Penn State defense has 10 pass breakups at Northwestern, it is the most PBUs in a game for the Nittany Lions since having 10 against Kent State in 2013.
The 10 pass breakups are tied for the fourth-most in a game for the Nittany Lions since 2000 (16, Purdue in 2000; 14, Michigan State in 2006; 11, Indiana in 2011; 10, UCF in 2004; 10, Kent State in 2013).
TE Nick Bowers made his collegiate debut in the fourth quarter. He is the 24th Nittany Lion to make their first appearance this season (3 true freshman, 14 redshirt freshmen, 3 sophomores, 4 juniors).
Penn State are on a bye next week before returning to Beaver Stadium to face No. 7 Michigan. Game time is to be announced.
OFFENSE
Trace McSorley
QB Trace McSorley has thrown a touchdown pass in 21 consecutive games, dating to the 2016 TaxSlayer Bowl, extending his Penn State record. The streak is the third-longest active streak in the FBS.
McSorley completed 15-straight pass attempts from the first quarter through the third quarter, breaking the Penn State record for consecutive completions. McSorley breaks the record set by Kerry Collins when he had 14-straight completions at Minnesota during the 1994 season.
McSorley had his 11th career game with both a rushing and passing touchdown.
With 245 passing yards, McSorley had his 16th career 200-yard passing game, which is tied for third in Penn State history with Kerry Collins (1991-94) and Zack Mills (2001-04).
McSorley moved into sixth place on Penn State's all-time passing yardage list with 5,396 career yards. He passed Anthony Morelli (5,275; 2004-07), Kerry Collins (5,304; 1991-94) and Chuck Fusina (5,382; 1975-78) on the day.
McSorley moved into eighth place on Penn State's career completions list with 374. He passed Kerry Collins (1991-94; 370) and Chuck Fusina (371; 1975-78) against Northwestern.
McSorley moved into fifth place on Penn State's career total offense list with 5,982. He passed Matt McGloin (5,745; 2009-12) on the day.
McSorley moved into second place on Penn State's career touchdowns responsible for chart. With 55 career TDR, he passed Christian Hackenberg (2013-15) for the position.
Saquon Barkley
RB Saquon Barkley has scored a touchdown in 13-straight games.
Barkley posted his 11th career multi-touchdown game and his third of the season.
This is his eighth career multi-rushing touchdown game and second of the season (Akron).
Barkley moved into fourth place on Penn State's career all-purpose charts with 4,511 yards. He passed Evan Royster (4,502; 2007-10) on the list.
Barkley moved into fourth place in Penn State history with his 30th and 31st career rushing touchdowns in the third quarter. He passed Charlie Pittman (30; 1967-69) for the position.
Barkley moved into seventh place on Penn State's career scoring chart with 234 points. He passed Curtis Enis (230; 1995-97) and Robbie Gould (232; 2001-04).
| | | | | | |
| --- | --- | --- | --- | --- | --- |
| Oct. 7, 2017 | 1 | 2 | 3 | 4 | TOTAL |
| PENN STATE | 3 | 7 | 14 | 7 | 31 |
| NORTHWESTERN | 0 | 0 | 0 | 7 | 7 |