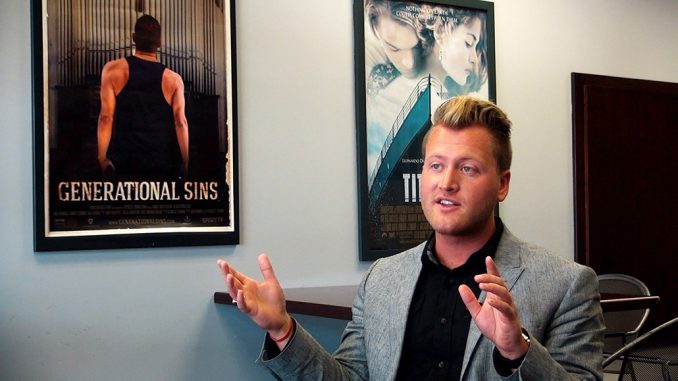 Roxy Theatre Selected for First Run Viewing Starting Friday Oct. 6
LOCK HAVEN – Spencer T. Folmar was raised in nearby Clearfield County and graduated from West Branch High School in Kylertown. Folmar had aspirations and dreams of working in the film industry and moved west to Hollywood to pursue that dream.
In June of 2016, Folmar brought Hollywood to Central Pennsylvania to create his most recent project, 'Generational Sins.'
"The film is about two estranged brothers are brought together by the death of their mother, whose dying wish is to see them return to their birthplace and reunite with their abusive, alcoholic father, says Folmar of the storyline of the film that he directed, co-wrote and produced, "The brothers set out on an emotional journey that leads them to their hometown, suffocating with the darkness of memories the younger brother can't remember and the older wants nothing more than to forget."
Portions of the film were also shot on location in the Orlando, Fla. area with the bulk of the movie taking place in and around Clearfield. In all, shooting the film took just over three weeks.
Folmar teamed up with executive producer, Thurman Mason and formed Third Brother Films production company.
The completed film will be offered to movie goers across the county this week with our very own Roxy Theatre as one of the select locations to offer the movie beginning on Friday, Oct. 6.
The film features an international cast with Daniel MacPherson, who hails from Sydney, Australia who plays the older brother in the film, Drew Caldwell.
Virginia native, Dax Spanogle plays the younger brother, Will Caldwell and also co-wrote the script with Folmar.
The film also includes several local Clearfield County residents who helped as seconds and supporting cast and crew for the film.
The producers will celebrate their World Premiere at the venerable Rowland Theater in Philipsbug on Thursday, Oct. 5, 2017 at 7 p.m. The event will include 'Golden Era' style trimmings of a red carpet, search lights and attendance by several cast members.
Tickets are available for the world premiere at the Rowland Theatre by visiting www.generationalsins.com.
To verify showtimes at the Roxy Movie Theatre, please visit: www.roxymovies.com.
To learn more about the film, cast and crew, check out the IMDB page for 'Generational Sins' at: www.imdb.com
For more details on the film, please view the video report below and you can also view the full theatrical trailer below.
Video Report
Theatrical Trailer
"Generational Sins" (2017) – Official Theatrical Trailer from Third Brother Films on Vimeo.