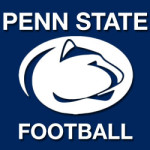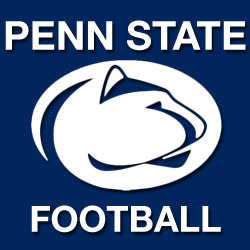 IOWA CITY – Better than 66,000 fans at Kinnick Stadium saw a football classic Saturday night, unheralded Iowa (3-1) almost pulling off a stunning upset. But Penn State (4-0) was not to be denied, marching 80 yards in the final minute and half, Trace McSorley's 7-yard pass to Juwan Johnson with no time left on the clock pulling out a 21-19 win.
It was a night Saquon Barkley burnished his Heisman Trophy credentials with a school record 358 total yards, including a personal best 211 yards rushing. It was a performance which included highlight reel after highlight reel plays, but it almost was not enough as the 12-point underdog Hawkeyes hung around all night long and finally took the lead at 19-15 with only 1:42 remaining.
Then McSorley engineered the game-winning drive. Starting from the PSU 20 he hit Johnson for 12 yards. Two incompletions followed, then an 8-yard pass to Barkley. On a fourth-and-2 McSorley picked up a first down on a 6-yard pass to Saeed Blacknall. From the Penn State 46 McSorley ran 12 yards to the Iowa 42; next an 18-yard pass to Johnson and 14 yards to Barkley to the Iowa 10. A McSorley to Mike Gesicki pass took it to the 7, followed by two incompletions. That set up a fourth down on the 7 with four seconds remaining. After a timeout McSorley found Johnson in traffic over the middle and hit him for the game-winner and the 21-19 final.
Afterwards coach James Franklin lauded his two veteran standouts, Barkley and McSorley as Penn State found a way to win: "I told the guys in the locker room, 'if you look at any really good season, there's always one game where the team has to gut it out and find a way to win, and we were able to do that tonight.' Obviously Trace McSorely, we've seen in for a year and half, is one of the most mentally and physically tough players I've been around, a clutch player. Then Saquon Barkley I cannot imagine that there's a better player in all of college football. I've been doing this for 23 years and this guy is special, I don't know what his stats were or what he did, but every time he touched the ball, I don't care if it was a 20-yard run or an 8-yard run, it was something special, it really was. The guy is a great leader on the sideline, couldn't be more positive, he's tremendous. We found a way to get a win tonight."
Penn State returns home Saturday, Sept. 30, a 3:30 p.m. start against Indiana. The Hoosiers are 2-1 and coming off a 52-17 win over Georgia Southern on Saturday. Indiana's lone loss was its season opener by a 49-21 score to Ohio State.
| | | | | | |
| --- | --- | --- | --- | --- | --- |
| Sept. 23, 2017 | 1 | 2 | 3 | 4 | TOTAL |
| PENN STATE | 3 | 2 | 10 | 6 | 21 |
| IOWA | 0 | 7 | 0 | 12 | 19 |