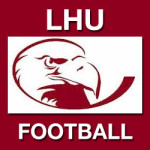 LOCK HAVEN – The Lock Haven University football team opened Pennsylvania State Athletic Conference (PSAC) Eastern Division play Saturday with a 35-14 loss to preseason favorite West Chester University (3-1, 1-0 PSAC East).
The Golden Rams, who received votes in this week's national poll and were named the unanimous favorite to win the PSAC Eastern Division, led 21-7 at halftime. West Chester used a 14-point third quarter to pull away.
After opening the 2017 season with three straight road games, the game marked LHU's 2017 home-opener, and it was a fitting return to Hubert Jack Stadium as the Bald Eagles (0-4, 0-1 PSAC East) held their 2017 Homecoming celebration.
Ralph Hyland (Philadelphia/Frankford) scored on a two-yard run and Kyeef Williams (Philadelphia/Delaware Valley Charter) hauled in a 9-yard pass from Jimmy Strickland (Plymouth, Pa./East Stroudsburg) to highlight LHU's offensive outing.
For the second week in a row, the Bald Eagles featured a two-quarterback system. Kyle Knight (Myerstown, Pa./Eastern Lebanon) got the start and once again provided a spark in the run game. Strickland finished 13 of 27 passing for a career-high 196 yards and one touchdown.
Hyland nearly hit the 100-yard mark on the ground, finishing with 98 yards on 16 attempts. Del'Vaughn Dennis (Enola, Pa./East Pennsboro), LHU's All-American tight end, made four catches.
On defense, Isaiah Flamer (Coatesville, Pa./Coatesville) had a team-high 10 tackles and Carlos Balkcom (Harrisburg, Pa./Harrisburg) had two interceptions to lead the way.
Fernando Flores (York, Pa./Northeastern) finished with nine tackles and Javon Whitfield (Philadelphia/Simon Gratz) had seven.
West Chester led 14-0 after the first quarter and the Golden Rams made it 21-0 late in the second quarter. Hyland's 2-yard run with 4:16 left in the first half put Lock Haven on the board. The TD capped a seven-play, 75-yard drive and made it 21-7 in favor of WCU.
Trailing 35-7, Lock Haven rounded out the scoring after Williams grabbed a TD-pass from Strickland.
West Chester quarterback A.J. Long finished 12 of 26 with two TDs and two INTs. Long rushed for 181 yards and a pair of scores as well.
Next Saturday, September 30, the Bald Eagles will travel to Shippensburg University for Week 5 action (1 p.m.).
| | | | | | |
| --- | --- | --- | --- | --- | --- |
| Sept. 23, 2017 | 1 | 2 | 3 | 4 | TOTAL |
| WEST CHESTER | 14 | 7 | 14 | 0 | 35 |
| CENTRAL MOUNTAIN | 0 | 7 | 0 | 7 | 14 |