By John Lipez 
A Couple Thoughts: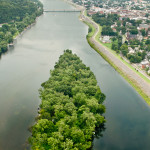 Many parents of school-age children in the Renovo area had quite a start last week when some ominous postings appeared on social media pages. We don't know how the resulting arrest will play out in the court system but we do know the widespread parental concern was more than justified in this age of all too often horrific school shooting incidents.
What have we subsequently learned? Someone in Clinton County in a position to know tells Down River that state mental health laws are woefully inadequate. He said the problem is similar across the country.
The mechanism to get people the help they need and at the same time protect their rights and society is a cumbersome one, not easily put into force here and elsewhere. That's one thought.
The other: if I'm the parent of a student at Renovo Elementary School I have already contacted the Chapman Township supervisors and bluntly asked them, "How can you simply walk away from consideration of a regional police force in the western end of the county?"
The last count available showed 190 youngsters in grades kindergarten through fifth at Renovo Elementary, plus whatever the number is this school year for the school's Pre-K program. And there are about 220 students at the across-campus Bucktail High School.
Let's do the math here. Looks like something better than 400 youth between the ages of four and 18 or so spending their weekdays from September through June at the Bucktail/Renovo complex.
Now let's add up the number of police officers in the Farwell/Chapman Township area to protect them. How about zero? How about, despite the hundreds of thousands of state gas industry-generated dollars pouring into the township, no police protection.
Yes, Renovo, South Renovo, Noyes and Chapman Township went through the motions of bringing in state experts to do a regional police study and came up with the same conclusion as previous studies. It will cost too much money.
The state-conducted study was shared last fall and as fall 2017 approaches, the four municipalities have taken no action on the proposal for a regional force to serve all four communities. At this point western Clinton County has one officer, paid by Renovo, spending the bulk of his time in Renovo, plus some limited, contracted visits across the river to South Renovo. That's it, along with a state police force, depleted in numbers in recent years, located at least half an hour away.
The scare at Renovo Elementary last week came less than a year from the anticipated start of construction of the Renovo Energy Center on the north side of Renovo. Project backers say upwards of 500 out-of-the-area workers will be descending on western Clinton County to build the sprawling project over the next few years.
Let's do the math a final time: 400 students in Farwell every weekday, 500 workers or more coming to western Clinton County beginning sometime next year. They'll all be protected by one Renovo officer who heads home when not on duty, plus a state police barracks some seven miles south of Lock Haven.
Will the Renovo Elementary incident be a wake-up call for elected officials in Chapman and Noyes Townships and Renovo and South Renovo boroughs? If past inaction is an indicator, probably not. If I have a student attending the school complex at Farwell, I tell those elected officials this is not acceptable.