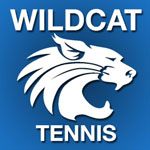 BALD EAGLE TOWNSHIP – It was another clean sweep for Central Mountain as they dominated Danville 5-0. With the win, the Lady Wildcats move to 4-2 on the season overall and 4-1 in the PHAC.
In singles action, CM's Jolee McCluskey handled Danville's Emma Lehr, 6-1, 6-0 at No. 1. Then at No. 2, Central Mountain's Kendall McCluskey took care of Peri Hassanzadeh, 6-2, 6-1, followed by Katherine Strouse CM def Paige Kupas, 6-0, 6-2 at No. 3 singles.
Lady 'Cats, Natalie Brown and Zoe Horton defeated Danville's Heather Walter and Gracie Crone, 6-2, 6-2 at No 1 with
Carolina Carpenetii and Olivia Anastos picked up the final win for CM, besting Paige Holcombe and Millie Elangbam, 6-2, 6-3 at No. 2 doubles.
The Lady Wildcats are off until Monday, Sept. 11, 2017 when they travel to Mifflinburg for another PHAC contest.
CENTRAL MOUNTAIN 5 – DANVILLE 0
1 Jolee McCluskey CM def Emma Lehr 6-1 6-0
2 Kendall McCluskey CM def Peri Hassanzadeh 6-2 6-1
3 Katherine Strouse CM def Paige Kupas 6-0 6-2
1D Natalie Brown/Zoe Horton CM def Heather Walter/Gracie Crone 6-2 6-2
2D Carolina Carpenetii/Olivia Anastos CM def Paige Holcombe/Millie Elangbam 6-2 6-3