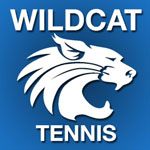 SUNBURY – The Lady Wildcat's hit the road again, this tie picking up another clean-sweep victory with a 5-0 win over PHAC for, Shikellamy. The Win put's Central Mountain at 3-1 on the season.
Central Mountain dominated on the night with all matches won in straight sets.
Jolee McCluskey led CM by defeating Sheik's Delani Wolever, 6-1, 6-0. At No. 2, Central Mountain's Kendall McCluskey took care of Lady Brave, Rubie Natal, 6-1, 6-1. Then in No. 3 singles, Natalie Brown picked up the Lady Wildcat's third win by taking down Shikellamy's Ashley Strevig, 6-0, 6-1.
In doubles, the Lady 'Cat duo of Zoe Horton and Olivia Anastos CM dominated Sheik's Heather Beveridge and her teammate, 6-0, 6-0. CM's Carolina Caropenetti and Bridget Miller closed out the action with a 6-2, 6-0 over Shikellamy's Loren Herrold and Alexus Newman.
CENTRAL MOUNTAIN 5 – SHIKELLAMY 0
1 Jolee McCluskey CM def Delani Wolever 6-1 6-0
2 Kendall McCluskey CM def Rubie Natal 6-1 6-1
3 Natalie Brown CM def Ashley Strevig 6-0 6-1
1D Zoe Horton/Olivia Anastos CM def Heather Beveridge 6-0 6-0
2D Carolina Caropenetti/Bridget Miller CM def Loren Herrold/Alexus Newman 6-2 6-0