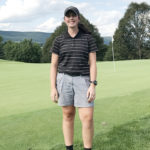 MACKEYVILLE — It took two extra holes but Alexis Anastos claimed her first Belles Springs club championship with a 1-up win on the 20th hole over defending champion Candy Day.
Anastos graduated from Central Mountain High School in June and was a two-time PIAA District 6 runner-up. She will be part of the Johnson and Wales University golf team in Providence, RI this upcoming school year.
The Saturday championship match was back and forth, Day putting well and jumping to a two-hole lead after the first two holes. Anastos came back taking four of the next five holes to gain a 1-up lead after the front nine. Her lead increased to two holes with five holes remaining. Day responded by winning two of the final three holes to tie the match and force a playoff.
Returning to the front nine, they split No. 19 and Anastos pared No. 20 to earn the title in her first try.
The two golfers played par and bogey golf throughout the day, Anastos driving and putting well, Day with a strong short game and exceptional putting, particularly on the closing holes to force sudden death.