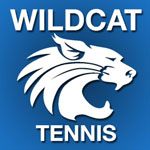 BALD EAGLE TOWNSHIP – The Central Mountain girls' tennis squad earned their second victory of the 2017 season with a 4-1 win over visiting Lewisburg.
The win takes the Lady Wildcats to 2-0 overall and 2-0 in the Pennsylvania Heartland Athletic Conference. With the loss, Lewisburg to 1-1.
CM swept Lewisburg in singles action led by Jolee McCluskey dominating Lauren Shearer 6-0, 6-1 at No. 1 with Kendall McCluskey taking down Lewisburg's Carolin Sigl, 6-1, 6-2 in the battle of No. 2 singles. Then CM's Katherine Strouse defeated Lexi Markunas, 6-0, 6-3 at No. 3 singles.
Central Mountain's Natalie Brown and Zoe Horton defeated Lewisburg's Maria Cooper-Erin Hilkert, 6-4, 7-6 in No. 1 doubles action.
The Green Dragons duo of Hallie Keiser and Hannah Castellan bounced back with win edging CM's Carolina Carpenetti and Olivia Anastos, 6-4, 6-2 at No. 2 doubles.
The Lady 'Cats will have a chance to catch their breath before they travel to Williamsport on Monday, Aug. 28, 2017 for a key PHAC contest.
CENTRAL MOUNTAIN 4 LEWISBURG 1
1 Jolee McCluskey CM def Lauren Shearer 6-0 6-1
2 Kendall McCluskey CM def Carolin Sigl 6-1 6-2
3 katherine Strouse CM def Lexi Markunas 6-0 6-3
1D Natalie Brown/Zoe Horton CM def Maria Cooper/Erin Hilkert 6-4 7-6
2D Hallie Keiser/Hannah Castellan Lew def Carolina Carpenetti/Olivia Anastos 6-4 6-2