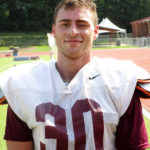 LOCK HAVEN — Better than a hundred Lock Haven University football players are back on campus prepping for the start of the new season coming up Saturday, Sept. 2 at St. Francis of Loretto.
A new face among them is a familiar face to local sports followers: He is Cole Renninger, most recently a solid contributor on the LHU basketball team. Renninger, a Central Mountain High School graduate, played two years of college basketball at Lehigh University, the last two seasons at LHU.
But Renninger loves his sports and had a year of NCAA eligibility left in athletics other than basketball so he'll spend his fall semester finishing his college academic work and vying for playing time on the Bald Eagle football team.
The 6-2 Renninger was very much part of a full-pad scrimmage earlier this week, working as a receiver in a return to the gridiron after a five year layoff from his high school football days. He indicated he was enjoying the opportunity and looks forward to contributing to the LHU program this season.
Last season, Lock Haven went 4-7 overall with all four wins coming against PSAC East opponents, including Cheyney, Millersville, Bloomsburg and East Stroudsburg. The Bald Eagles finished 4-3 in PSAC East play.
Third-year head coach Dave Taynor and his Haven program will look to build off an improved 2016 campaign. The four wins last season were the most since Lock Haven won four games during the 2002 season. The four PSAC Divisional wins were the most since the 1979 season. As a team, LHU broke single-season records for total points (323 pts.), total offense (4,954 yds.) and team passing offense (3,158 yds.).
The Bald Eagles – who return four All-Conference players including All-American tight end Del'Vaughn Dennis and offensive lineman Trent Fielding – reported back to campus last Friday for preseason camp.
LHU will kick off the 2017 season at NCAA Division I (FCS) Saint Francis on Saturday, September 2 (12 p.m.) in Loretto, Pennsylvania. Road games follow on successive Saturdays at Edinboro and Slippery Rock before the home opener/homecoming game Saturday, Sept. 23 with West Chester.