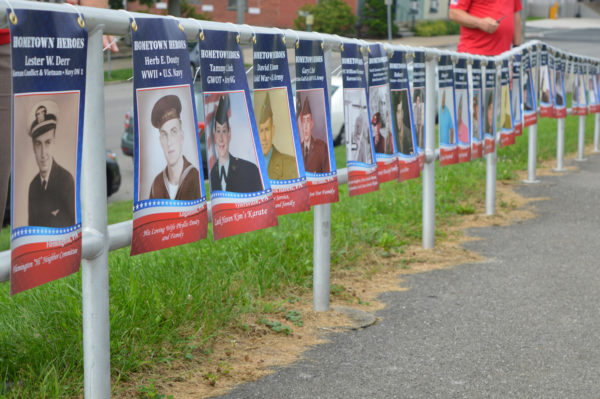 By LaKeshia Knarr
LOCK HAVEN – "What all these heroes have in common is that they run towards an event instead of away… Today, we honor and remember our heroes who served."
Sean MacMillen, a Lock Haven native, veteran and first Chapter Captain of Team RWC Lock Haven-Williamsport, said those words as he welcomed hundreds to the J. Doyle Corman Amphitheater Saturday morning for the 2017 Hometown Heroes Celebration.
The banner program, organized by Downtown Lock Haven Inc., began 10 years ago. With this round, the community has recognized about 2,000 service members, now including veterans as well as service members such as volunteer fire fighters, police officers and emergency medical technicians, explained Krisy Meeker, vice president of Downtown Lock Haven Inc.
Meeker told the crowd of a recent hiccup that occurred, relating it to some of the struggles seen by the service members being honored.
"In any conflict… things don't always go as planned," she said. "Downtown Lock Haven, late this week, found themselves in a situation."
The planners learned the banners would not arrive in time to be hung for the ceremony, she explained. "We came up with a new battle plan."
Working with SpeedPro Images, of Lock Haven, the planning committee had smaller versions of the 2017 edition banners printed. Eyelets were inserted in the top and the banners were strung from the handrails heading up the walkway at the amphitheater.
"Everyone … will be able to leave here today with a banner to take home with them," she said to the families.
Meeker said the full size banners will arrive next week and will be hung up along the levee and throughout downtown by the end of August. They will be on display through 2019.
Lock Haven Mayor William Baney III welcomed attendees to the city and noted how people often show patriotic spirit through banners.
"What makes it great here is the enthusiasm," he said, adding that the banners beautify the area.
He mentioned three banners near and dear to him: one for his father, Navy veteran William E. Baney Jr.; one for his father-in-law, Korean War veteran Donald Eggler; and another for his late sister-in-law, first responder Twila Baney.
"The people of Clinton County have always stepped up to serve when our nation or duty calls," said Commissioner Paul Conklin, adding that it shows a true sense of community. "These people are our hometown heroes."
U.S. Congressman Glenn "GT" Thompson, R-Howard, also remarked on the program and character of the honorees.
"The Hometown Hero Program … really is a tribute to the people who have or are currently serving … The individuals we honor today are truly remarkable. These hometown heroes have answered the call of duty," Thompson said.
Reflecting on how these individuals put aside their own needs in the line of service, the congressman said they enrich their communities.
"Today we remember their sacrifices and service," he said. "Our community is united, strengthened and a better place to live because of the freedom, liberty, safety and security provided by these individuals."
Special guest speaker for this Banner Year celebration was Col Thomas Motel (Ret) of Mill Hall, who said it was his second time being able to speak at a Hometown Heroes event.
There were two differences since his last speech, he noted. Last year, he officially retired. And the last time he spoke, only military service members were honored.
"This time, we also honor those who served our local communities," he said.
Many commonalities exist between these service members, Motel added, including their desire to serve and their willingness to put themselves in precarious situations to save others.
"The names are repeated," he said. "You will see family names' popping up over and over again, as generation after generation serves their community."
Motel spoke of his family lineage, which includes generations of volunteer firefighters. In fact, he noted that his father helped establish the Clinton County Emergency Squad in the 1950s and '60s.
He gave a special shout out to firefighters, contrasting their service to that of many other groups.
"We chose this as a career and we are being paid to do this. Our local firefighters are volunteers," he said, while noting that all service members should be praised and celebrated. "That is a true indicator of selfless service and a Downtown Hero."
Motel also encouraged folks to join civic organizations serving the community as well. "Seek them out. Join them. And serve."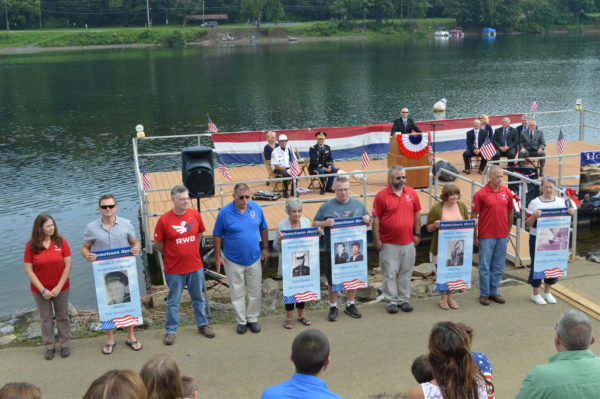 Before unveiling a handful of the 2017 banners, five recipients of 2015 banners were presented with the banners commemorating their loved ones in a symbolic retiring of the banners service.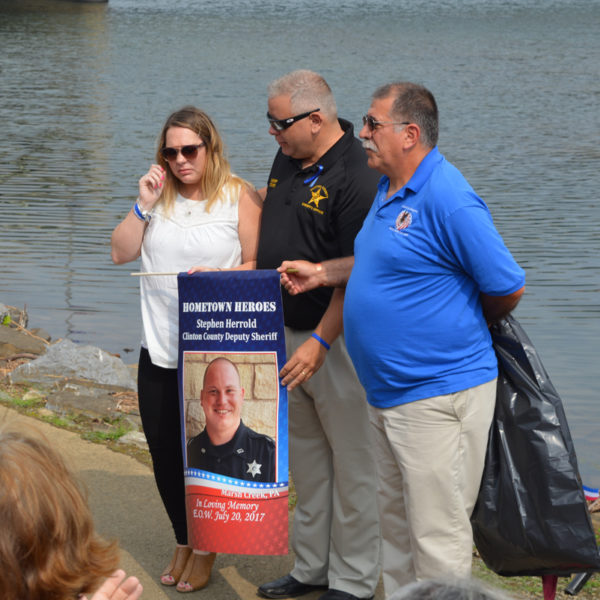 One of the 2017 banners to be unveiled, and done so on the floating stage, was to honor Clinton County Deputy Sheriff Stephen Herrold. Herrold, 30, of Lock Haven, passed away unexpectedly July 20, just 10 days after his son, Brock, was born to wife Kelly (Flynn), who attended the ceremony Saturday.
Before the Jersey Shore Honor Guard played "TAPS" and bagpiper John MacMillen closed out the event with a performance from Veterans Bridge, Judith Petruzzi read the names of the 2017 banner honorees.
Also participating in the ceremony were retired Rev. Kenneth Lynn, Chaplain (Major) Vietnam, U.S. Army Reserve, who gave the invocation and closing benediction; the 82nd Airborne Division Honor Guard, Harrisburg Chapter; the Boy Scouts of America, Troop 54, Beech Creek-Blanchard, who led the Pledge of Allegiance; and Elaine Barth, singing God Bless America.