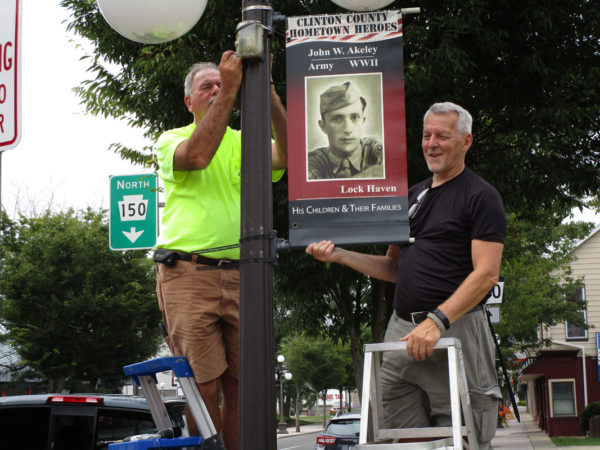 LOCK HAVEN — Volunteers were at work Friday in downtown Lock Haven readying the community for Saturday's 2017 Hometown Hero Celebration.
The celebration, held every two years, will take place Saturday at 10 a.m. at the Corman Amphitheatre along the Susquehanna River. The event will honor veterans, current military members and local emergency responders.
In all some 250 banners are to be placed throughout the downtown, although it is understood the newest banners have not yet been received from the company creating them.
Two decorated local veterans, both having served in Afghanistan, will be involved in the Saturday morning program: Col. (Retired) Thomas J. Motel is the keynote speaker and Sean MacMillen is the mc. After the presentation of banners and completion of the program, the Jersey Shore Honor Guard will present Taps and local bagpiper John MacMillen will bring the program to a close.
The weather forecast for Saturday morning calls for a 60 percent chance of scattered thunderstorms and a temperature of 70 degrees. The sponsoring Downtown Lock Haven organization has announced the program will proceed, rain or shine.