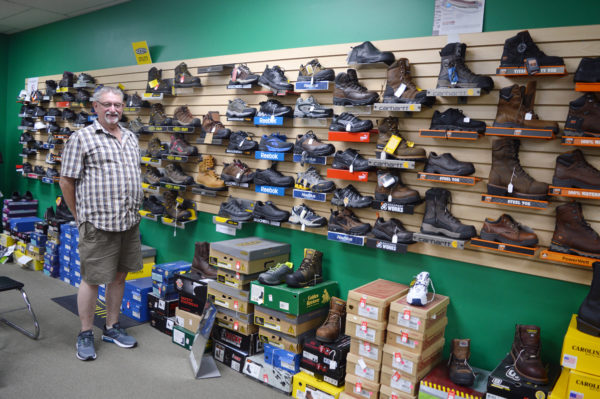 By LaKeshia Knarr
LOCK HAVEN – After nearly 15 years of running the local shoe shop, Bob Simcox, owner of Corbin's Footwear, is ready to retire. He hopes as this chapter of his life closes, another chapter will open for someone else hoping to carry on the business.
"I'm really hoping to sell the store. I don't want to close it," Bob explained. "I think the public is really going to miss it."
The owner said this could be a lucrative opportunity for someone looking for a new venture.
"This is a great opportunity for the right person because the store is already built," he said. "If someone really knows how to do internet marketing, the potential for this business is huge."
Bob shared that online shopping and box stores were the two main competitors in recent years. He admitted he hadn't spent as much time on online marketing as he would have liked to – and believes that will be the key to the next owner's continued success.
"The online component made it more difficult for me," he said. "But, that's where young people are shopping."
In 2015, Bob reached out to Lock Haven University to see if he could get some help building an online store. He was able to find a part-time intern, whom he paid, to help build the online store at www.corbinsfootwear.com.
"We built up my online store," he said. "I thought, if I can't beat you, I'll join you."
He said there is also room for growth in terms of the product line.
The store currently focuses largely on work and outdoor shoes, carrying brands like Keen, Carolina and Rocky, among others. Carhartt clothing is also prominent in the store.
"There are a lot of companies we don't have online," he said of the brands sold in store. Future owners could choose to expand the style and brand selection and make other changes that could appeal to a larger market as well, he said.
There are pros and cons to being an entrepreneur, Bob will tell you – but believes the investment is worth it.
"It's always a struggle to try to figure out could I do it better and how do I get better," he said. "I have made so many friends and met so many people I wouldn't have known otherwise. I guess there is some celebrity in that, being in business for yourself."
Bob intends to sell the inventory directly to interested buyers for less than the total cost of inventory, he explained. That inventory will include footwear and other retail items, as well as office equipment and shelving units acquired over the last 15 years.
"They're really going to get a decent bargain," he said.
Beginning Monday, August 7, Corbin's Footwear will offer 10% off storewide as part of its closing sale.
The total inventory price for interested buyers will drop as the remaining inventory is purchased during the sale, Bob explained.
Bob opened Corbin's Footwear, named after his grandson, on Main Street in Lock Haven in 2003.
"At one time on Main Street we had six shoe stores," the Lock Haven area native recalled. "I was driving up Main Street one day and said, 'We don't have a shore store.' So, I started up a shoe store… I knew nothing about it at the time. At times it was a real struggle, a learning experience."
In 2007, Bob relocated Corbin's Footwear to 559 High St., into a building he owns and which he intends to maintain ownership of following the sale of the business.
Bob has grown to know the footwear industry and he values the role independent shoe shops play in the lives of customers.
"The community is going to miss it severely if the store closes," he said. "I feel it may be a disadvantage to the community to not have competition."
To learn more about the business, contact Bob Simcox at 570-893-1880 or at Corbin's Footwear during regular business hours (9 a.m. to 6 p.m. Monday through Thursday; 9 a.m. to 7 p.m. Friday; 9 a.m. to 5 p.m. Saturday; and 10 a.m. to 3 p.m. Sunday).