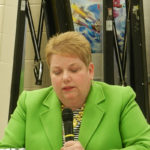 BALD EAGLE TOWNSHIP — Kelly Hastings, superintendent of the Keystone Central School District since 2009, announced at Thursday night's board meeting she will retire effective March 12, 2018.
The surprise announcement came at the end of the board's work session and prior to the start of its voting session in the Central Mountain High School library. Hastings later cited "personal" reasons behind her decision to step down.
The district is involved in a difficult budgeting period and is utilizing a community task force to come up with a 10 percent cut in the district budget for the 2018-19 school year. The district is also looking at upheaval on the school board, two board members, Greg Strouse and Albert Jones resigning in recent months. Another sitting member, Tom Shafer, has elected not to seek re-election this November.
Hastings had been elected to a second 5-year term as superintendent in November of 2014. Her approval came on a 6-3 vote. Opponents at the time, and periodic administration critics since, were Roger Elling, Charlie Rosamilia and Debra Smith; all three will continue to serve on the board into next year. Jones, Shafer and Strouse had been among the six who voted for Hastings for another 5-year-term back in 2014.