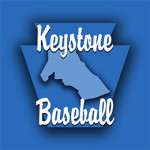 BETHLEHEM — The Keystone Little League 9-11 team had been held to a season-low three hits in a 13-2 loss to Ridley in Friday's first round game at the state tournament in Bethlehem.
Faced with a win-or-go-home game Saturday, the Keystoners bounced back: the first four batters in the lineup eclipsed that total in the top of the first when Gardy Fravel doubled, Nate Wian doubled in a run, Connor Foltz singled and Elek Fravel drilled a 3-run homer into the netting high above the leftfield fence; that outburst pushed Keystone to a 4-0 lead and coach Scott Fravel's team never looked back in a 12-2, 4-inning trouncing of tourney host Lehigh.
The win advanced Keystone into the state tourney's loser bracket second round Sunday at 3:30 p.m. against the loser of a Saturday evening game between Back Mountain National and West Side.
By the time the top of the first ended Keystone had added two more runs as Brady Myers singled, Cayden Culvey doubled and Kevin Grenninger singled them in. Visiting Keystone had six runs in the top of the first and a commanding lead. They added two more in the second, two in the third and two more in the fourth as hits were produced from all nine slots in the batting order; the net result 14 hits and12 runs.
Elek Fravel finished with his homerun, two sacrifice flies and five runs batted in. Wian had a 3-for-3 day, Gardy Fravel a double and a single, Foltz 3-for-3 with a double. Gavin Kerstetter had a pinch-hit single, Seth Fronk off the bench with a single, Brady Myers with a single, Culvey with his double and Grenninger with his single.
Meanwhile three Keystone pitchers kept Lehigh in check, combining on a 3-hitter. Myers was the winning pitcher, going the first two innings without surrendering a hit. Elek Fravel and Foltz finished up with an inning each, Foltz retiring all three batters he faced.
| | | | | | | | | | |
| --- | --- | --- | --- | --- | --- | --- | --- | --- | --- |
| July 29, 2017 | 1 | 2 | 3 | 4 | 5 | 6 | R | H | E |
| KEYSTONE | 6 | 2 | 2 | 2 | X | X | 12 | 14 | 0 |
| LEHIGH | 0 | 0 | 1 | 1 | X | X | 2 | 3 | 1 |