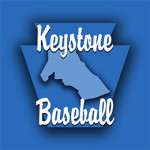 BETHLEHEM — The Ridley Little League team, Pennsylvania champions as 10-year-olds, more than lived up to its billing in the opening round of the 11-year-old state tournament on Friday.
District and sectional champion Keystone was game but Ridley had too many horses on the way to a 4-inning, 13-2 victory. The loss dropped Keystone into a first round lower bracket game against host Lehigh, a 14-1 loser to Clarion.
Ridley pounded out 10 hits and took advantage of 11 walks off five Keystone pitchers. The suburban Philadelphia team scored two in the first inning and three in the second for a 5-0 lead. Keystone would answer with a run in the bottom of the second as Gavin Burnell drilled a single and Wyatt Kramer hit what was thought to be a 2-run homer off the centerfield scoreboard. But one run was taken off the board when Burnell was called out for failing to touch third base.
The game stayed 5-1 into the fourth when Ridley put the game away, sending 13 batters to the plate and scoring eight runs. The big blow was a grandslam homerun from mammoth Mike Floriendo (6-foot tall). Floriendo started on the mound for Ridley and struck out the first three batters he faced; he was removed in the second inning as Ridley rotated through four pitchers.
Keystone was held to four hits. The final two of them, in the bottom of the fourth, led to Keystone's second run: pinch-hitter Gavin Kerstetter drilled a single and pinch-hitter Dominic Slota slammed a double. The run scored when pinch-runner Kevin Grenninger came across on the a wild pitch. Keystone would leave the bases loaded in the bottom of the fourth and final inning.
Coach Scott Fravel's team will try to bounce back Saturday in its 10:30 a.m. contest with Lehigh. The game can be heard on AM1230 WBPZ and therecord-online.
| | | | | | | | | | |
| --- | --- | --- | --- | --- | --- | --- | --- | --- | --- |
| July 28, 2017 | 1 | 2 | 3 | 4 | 5 | 6 | R | H | E |
| RIDLEY | 2 | 3 | 0 | 8 | X | X | 13 | 10 | 0 |
| KEYSTONE | 0 | 1 | 0 | 1 | X | X | 2 | 4 | 1 |