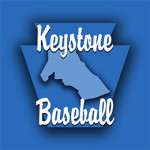 MORRISVILLE – The Keystone 8-10 All-Stars lost a nail-biter to 10-8 to East Pennsboro in the Pennsylvania State Little League tournament.
East Pennsboro jumped out to a 6-0 lead in the top of the first inning using 4 hits and 3 walks to plate those runs.
Keystone responded with a run of their own in the bottom of the first inning with a pair of singles coming from Darius Shade and Griffin Kerstetter, followed by Shade scoring on a fielder's choice when Blake Walker put the ball in play with Keystone now trailing 6-1.
Keystone stiffened their defense in the second inning holding East Pennsboro scoreless and also found their bats again in the bottom of the second.
Watt Probst led off the second inning with a walk. Probst advanced to second base on a passed ball. Then with 2 outs, Cole Cooper reached base on an error and Probst scored on the play. Then Shade matched Cooper's effort also reaching base safely on an error. Griffin Kerstetter then smacked one over the fence to clear the bases and close the gap with East Pennsboro leading 6-5.
Both teams would add single runs to their totals in the third inning. Keystone's run came as a result of a single from Watt Probst with 2 outs on the board. Then Jase Seltzer reached base safely on yet another EP error with Probst advancing to third on the play. Then Bryce Brungard kept the EP miscues coming as he also reached base on an error to score Probst and advance Seltzer to third base. Keystone now trailing EP, 7-6.
Neither team would score again until the final inning. East Pennsboro plated 3 more runs with 2 outs on a Keystone error, a single followed by a home run to make the score 10-6 in favor of EP.
Keystone would go down swinging in a valiant effort to claw their way back.
It all started when Hunter Donley got on base when he was hit by a pitch. Followed by Cooper working a walk. Then Shade had another base hit, this time to right field moving Donley and Cooper into scoring position. Then after 2 outs were recorded, Hart Fletcher dropped a fly ball into right field for a single to score Donley and Cooper and moving Shade to third base. The effort came up short with the tying runs on base EP managed the third out before Keystone could plate any more runs to end the threat.
Shade, Walker, Probst and Fletcher all saw time on the mound allowing 9 hits, 4 walks and striking out 3 batters on the day.
The loss ends Keystones season as they posted a 7-2 record for their tournament run with both their losses coming at the state tourney.
| | | | | | | | | | |
| --- | --- | --- | --- | --- | --- | --- | --- | --- | --- |
| July 27, 2017 | 1 | 2 | 3 | 4 | 5 | 6 | R | H | E |
| EAST PENNSBORO | 6 | 0 | 1 | 0 | 0 | 3 | 10 | 9 | 6 |
| KEYSTONE | 1 | 4 | 1 | 0 | 0 | 2 | 8 | 7 | 2 |