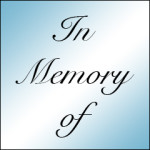 Josephine M. Salvatori, 79, of Lock Haven passed away Tuesday, July 25, 2017 at her home.
Born on December 15, 1937 in Lock Haven, she was the daughter of the late Joseph and Margaret Dicello Lapriola.
Josephine was a 1957 graduate of Immaculate Conception High School.
She married Sebastian Salvatori who preceded her in death.
She worked as a caregiver.
Josephine was a member of the Holy Spirit Parish, St. Agnes Catholic Church.
Earlier in life, she was an avid bowler.
Josephine loved spending time with her family.
Surviving is her son, Robert (Lori) Salvatori of Reading; her two daughters, Pamela (Victor) Fink of Sierra Vista, Arizona and Angela (David) Steele of Williamsport; a brother, Frank Lapriola of Lock Haven; six grandchildren: Zachary Fink, Katelyn Faith, Anthony Salvatori, Jarrod Rabold, Makayla Steele, and Gianna Steele; and nine great grandchildren.
In addition to her parents, she was preceded in death by a sister, Philomena Leone and five brothers: Angelo, Anthony, Michael, Vito, and Pasquel Lapriola.
A Mass of Christian Burial will be held on Monday, July 31, 2017 at 10 a.m. at St. Agnes Catholic Church, 3 E. Walnut St., Lock Haven. Burial will follow at St. Agnes Cemetery.
Friends and family will be received at the Moriarty Funeral Home & Crematory, 112 E. Church St., Lock Haven on Sunday, July 30, 2017 from 6 until 8 p.m.