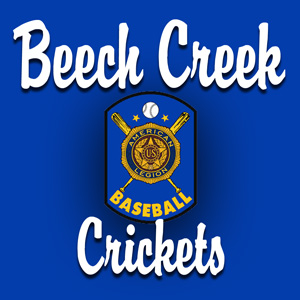 EPHRATA — The Beech Creek American Legion team rode a 3-run first inning and a bulldog performance from pitcher Landon Breon to edge Spring City by a 3-2 count to stay alive at the state Legion tournament.
Breon underwent shoulder surgery over the last winter and was unable to pitch for Central Mountain High School this spring. But the lanky lefthander showed he can be a dominant pitcher, going all nine innings in the Wednesday Cricket win. He finished off a 5-hitter by retiring the side in order in the top of the ninth inning after Spring City had played small ball to score single runs in the seventh and eighth innings to pull within one at 3-2. Breon threw 118 pitches in his complete game performance, backed by error-free ball from his teammates.
Beech Creek again struggled offensively, managing but four hits but did just enough in inning number one to score all its runs: With one out Toner Corl drew a walk and Talon Falls singled. Asher Corl singled in his brother Toner and Falls came around and scored on an error by the Spring City catcher. Wyatt Koch and Breon drew walks and when Connor Bauman grounded into a fielder's choice Asher Corl scored the third run of the inning.
The Crickets would manage only two more hits, a sixth inning single from Breon and a seventh inning triple from Brandon Miller. But the three early Cricket runs proved to be enough.
The victory puts Beech Creek into a second round loser's bracket contest on Thursday, game time 12:30 p.m., the opponent Swoyersville, a 4-1 loser to South Parkland on Wednesday.
| | | | | | | | | | | | | |
| --- | --- | --- | --- | --- | --- | --- | --- | --- | --- | --- | --- | --- |
| July 26, 2017 | 1 | 2 | 3 | 4 | 5 | 6 | 7 | 8 | 9 | R | H | E |
| SPRING CITY | 0 | 0 | 0 | 0 | 0 | 0 | 1 | 1 | 0 | 2 | 5 | 1 |
| BEECH CREEK | 3 | 0 | 0 | 0 | 0 | 0 | 0 | 0 | X | 3 | 4 | 0 |