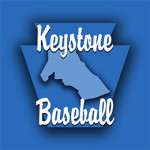 MORRISVILLE – The Keystone 8-10 All-Stars fell behind 2-0 early to St. Marys but battled back in the later innings to prevail 3-2 and stay alive in the lower bracket at the Pennsylvania state championship tournament.
St. Marys scored single runs in both the first and second inning to hold a 2-0 advantage over Keystone in the early going using 3 hits a pair of walks and 3 Keystone errors.
Keystone shook off those early miscues and began their battle back by scoring single runs in each of the next 3 innings.
In the bottom of the third inning, Keystone's Darius Shade pounded out a double with one out on the board. Then Cole Bailey had a base hit to advance Shade to third base. Blake Walker grounded out to second base allowing Shade to score on the ensuing fielder's choice play.
In the bottom of the fourth inning with one out on the board, Watt Probst had a base hit on a fly ball to right field. Probst advanced to second base on a passed ball. Then Jase Seltzer pounded out a single to score Probst.
The final Keystone run came in the bottom of the fifth inning when Shade led off with a single followed by a ground out by Cole Bailey that moved Shade to second base. Then Walker would send a line drive to right field to score Shade and give Keystone the 3-2 lead.
Hart Fletcher also had a hit for Keystone against St. Marys.
On the hill, it was Shade getting thew start, giving up 2 hits, 2 walks and i strikeout for 1 inning of work. Nolan Cross followed with yielding 1 hit, 1 walk and striking out 3 batters for a 3 inning stint on the mound. Seltzer cam in to close out the game giving up 1 hit, 1 walk and 1 strikeout for the final inning.
Keystone will next see action on Thursday, July 27 at 4 p.m. against the loser of the East Pennsboro vs Northeastern game that will be played at 6 p.m. today.
| | | | | | | | | | |
| --- | --- | --- | --- | --- | --- | --- | --- | --- | --- |
| July 26, 2017 | 1 | 2 | 3 | 4 | 5 | 6 | R | H | E |
| ST MARYS | 1 | 1 | 0 | 0 | 0 | 0 | 2 | 4 | 1 |
| KEYSTONE | 0 | 0 | 1 | 1 | 1 | X | 3 | 8 | 3 |