Keystone Intermediate All-Stars Use 'IF' Game to Top Norwin 13-1 for State Title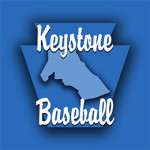 CARLISLE – It took 13 innings of hard work spanning two games including a rain delay that lasted a little over an hour, for the Keystone Intermediate 50/70 All-Stars to get past the Norwin Knights and claim the Pennsylvania state championship and a berth in the regional tournament in Long Island, NY.
In the first game, Keystone got on the board with a pair of runs that resulted from back-to-back solo homers from Cayde McCloskey and Kaden Falls. Norwin would respond with a run of their own in the bottom the first with Keystone holding a 2-1 advantage.
McCloskey would bang out another solo dinger in the third inning to put Keystone up 3-1 then Norwin answered back with a 2 run homer of their own to knot the score 3-3. Norwin put up another 2 run home run in the fourth inning to take a 5-3 lead. In the fifth inning Norwin put up three more runs on a couple of solid base hits and some opportunistic base running for a 7-3 lead.
In the sixth inning Keystone battled back to narrow the gap for 3 runs resulting from a solo homer from Blade Myers and a 2-run shot that cleared the fence from Aiden Major. Norwin answered back again for another run in the bottom of the inning to maintain a 9-6 lead.
Keystone could only muster another run in the top of the seventh, a solo homer, this time from Brady Bendik.
Nash Welch, Aaron Miller and Richie Thompson also had hits in the first game.
The loss was Keystone's first in the double elimination tournament which forced the 'if' game to settle on the eventual champion.
Falls was on the mound for the first 5 2/3 innings for Keystone allowing 8 hits, walking none and striking out 12 batters. Aaron Miller worked the final two outs allowing 1 hit, 2 walks and recording 1 strikeout in the effort.
In the second game, Keystone was once again the visiting team as established by the coin toss.
Norwin and Keystone held each other in check for two full innings then Nash Welch decided it was his turn to go yard and get things rolling to put Keystone up 1-0. As all good teams do, Norwin took little time in responding for a run of their own in the bottom of the third.
In the fourth inning Kade Falls worked a walk, Aiden Major and Ryan Thompson both singled resulting in a 2-1 Keystone lead.
In the top of the fifth inning, Kayden Friese reached first base on a Norwin error followed by a solid base hit from Blade Myers and another base hit, this time from Cayde McCloskey that scored both Friese and Myers to give Keystone a 4-1 advantage. Next Falls would drive a double to to deep left field, scoring McCloskey. Then Major singled moving Falls to third base.
Later, Brady Bendik drove the ball to deep right field and reached base safely on a Norwin error which also allowed Falls and Major to score putting Keystone up 7-1.
Then in the top of the sixth, Keystone put the finishing touch on their effort by plating 6 more runs.
It all started with Lane Porter laying down a bunt and legging it out to first safely by sliding head first under the tag. Later, Myers smoked out a double that scored Porter. Then Myers advanced to third base when McCloskey grounded out. Falls would then pound out a double of his own to score Myers. Majors found the deep side of the fence once more scoring himself and Falls in the process. Then Ryan Thompson worked a walk to get on base which was all Bendik wanted so he too could go yard for a 2-run effort to score Thompson and himself. This all put Keystone ahead, 13-1.
Major had the start for Keystone on the mound but had to leave in the fifth inning when he reached his max pitch count of 95 pitches of which most were B-Bs that Norwin couldn't catch up with. In 4 1/3 innings of work, Major allowed only a single hit, walked 6 and struck out 10.
Thompson stepped up to relieve Major on the hill walking 2 batters and striking out 2 including the last batter that sealed the win for Keystone under the 10-run mercy rule and gave them the state title.
In the end it was Keystone's traditional workmanlike performance along with depth at pitching and unselfish attitude that earned them the title. That tradition and attitude has earned them two state titles and fans everywhere they have competed. Now it's time for them to make believers out some folks on Long Island.
Game 1
| | | | | | | | | | | |
| --- | --- | --- | --- | --- | --- | --- | --- | --- | --- | --- |
| July 17, 2017 | 1 | 2 | 3 | 4 | 5 | 6 | 7 | R | H | E |
| KEYSTONE | 2 | 0 | 1 | 0 | 0 | 3 | 1 | 7 | 13 | 0 |
| HNORWIN | 1 | 0 | 2 | 2 | 3 | 1 | X | 9 | 9 | 0 |
Game 2
| | | | | | | | | | | |
| --- | --- | --- | --- | --- | --- | --- | --- | --- | --- | --- |
| July 17, 2017 | 1 | 2 | 3 | 4 | 5 | 6 | 7 | R | H | E |
| KEYSTONE | 0 | 0 | 1 | 1 | 5 | 6 | X | 13 | 13 | 0 |
| HNORWIN | 0 | 0 | 1 | 0 | 0 | 0 | X | 1 | 1 | 2 |