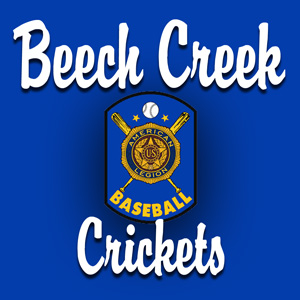 BEECH CREEK – Except for one defensive inning, the Junior Crickets played an otherwise excellent ball game. That misfortune was enough to give State College the lead and capture the American Junior Legion West Branch League title.
Beech Creek attempted a valiant effort in the last two innings to close the gap but ran out of at-bats to reach their goal. With the loss the Jr. Crickets ended their season at 20-4 and a second place finish in the WBL.
Beech Creek got on the board in the third inning when, with two outs, Rocco Stark belted out a single followed by a home run from Caleb Shade when he sent the ball over the right field fence and introduced it to the pavement on Vesper Street to put the Jr. Crickets up 2-0.
State College captured the lead in the fifth inning as a result of 2 base hits and 4 Beech Creek errors.
Beech Creek tried to narrow the gap in the sixth inning when Ross Glossner hit one of his two base hits on the day. Glossner eventually reached third base and when he attempted to score, couldn't quite beat the tag and the threat was ended.
In the seventh inning Peyton Johnson led off with a double for Beech Creek and then advanced to third base on a fielder's choice when Trevor Adair put the ball in play. Johnson would later score on a State College error ending the scoring for the Jr. Crickets.
Chase Payton worked the mound for the first 5 innings allowing 3 hits, 1 walk and striking out 1 batter. Caleb Shade came in to close in the sixth inning yielding 2 hits, 1 walk and 2 strikeouts to his credit. Shade, who started a shortstop turned a sharp 6-3 unassisted double play that shut down a State College threat in the fourth inning.
| | | | | | | | | | | |
| --- | --- | --- | --- | --- | --- | --- | --- | --- | --- | --- |
| July 16, 2017 | 1 | 2 | 3 | 4 | 5 | 6 | 7 | R | H | E |
| STATE COLLEGE | 0 | 0 | 0 | 0 | 0 | 4 | 0 | 4 | 5 | 2 |
| BEECH CREEK | 0 | 0 | 2 | 0 | 0 | 0 | 1 | 3 | 5 | 4 |