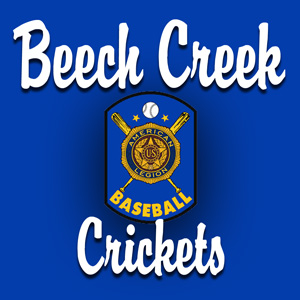 CLEARFIELD — The Beech Creek American Legion baseball team was pushed by Punxutawney in its regional playoff opener Saturday, but held off the Chucks by a 7-6 score. The victory put coach Zach Rote's team at 16-2 on the season and into a Sunday game against the winner of a first-round contest between Bushy Run and Bedford.
Toner Corl and Trevor Hanna split the mound duties for the Crickets. They gave up 12 hits, struck out five and walked two, but made the pitches when needed to take the nine inning game. Beech Creek meanwhile was held to seven hits but scraped out runs in five different innings, the big hit a 2-run homerun from Wyatt Koch in the seventh inning.
A two-run sixth saw RBI singles from Mitch Smith and Evin Prough as the bottom of the Cricket lineup picked up five of Beech Creek's seven hits. Smith and Prough each finished with two singles, Zack Eck and Asher Corl one each, to go along with Koch's homerun.