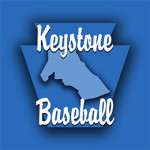 SOUTH WILLIAMSPORT – The 9-11 Keystoners (3-0) ground away at Montoursville. Down 1-0 after the top of the first, Keystone put up a 6-spot in the bottom of the inning and never looked back. Gardy Fravel opened with a walk and Nathan Wian doubled him in to tie the game. Winning pitcher Brady Myers worked a walk and cleanup hitter Elek Fravel followed with a mammoth 3-run homerun well up into the tall shrubs well beyond the centerfield fence. Keystone would score two more in the inning, building around a single from Connor Foltz and an RBI double from Gavin Burnell. Another run followed after a couple walks to start inning number two, the run scoring on an RBI fielder's choice off the bat of Foltz.
The Keystone 11s closed out the game on the 10-run rule in the bottom of the fourth. Foltz singled, Burnell singled, followed by a walk. Cayden Culvey brought in one run with a groundout and Kevin Grenninger followed with an RBI single. After Gardy Fravel was hit by a pitch, Wian ended the game with a 2-RBI single to centerfield, the final 11-1 Keystone.
Brady Myers went the distance for the 4-inning win, surrendering a single and a double in the first but nothing after that. His 2-hitter saw three strikeouts and three walks.
Wian, Foltz and Burnell all had two hits for Keystone, Wian finishing with three RBIs. Elek Fravel had his first inning homer and Grenninger his RBI single. The Keystone cause was helped by nine walks from three Montoursville pitchers.
| | | | | | | | | | |
| --- | --- | --- | --- | --- | --- | --- | --- | --- | --- |
| July 15, 2017 | 1 | 2 | 3 | 4 | 5 | 6 | R | H | E |
| MONTOURSVILLE | 1 | 0 | 0 | 0 | X | X | | | |
| KEYSTONE | 6 | 1 | 0 | 4 | X | X | | | |