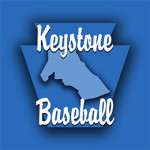 SOUTH WILLIAMSPORT — If anyone thought the upcoming Keystone Little League talent pool might be dropping off a bit, two teams of Keystone youngsters put those concerns to rest on Saturday in a double-header District 12 title sweep at Volunteer Stadium. First it was the 8-10 team with a 6-2 win over Loyalsock, followed by the 9-11 team with a 4-inning 11-1 rout of Montoursville.
The two victories put both teams into Sectional 3 play starting later next week. The Keystone 11s are to host their sectional tourney starting Thursday at Blaine Kunes Memorial Park in Beech Creek while the 10s will travel to the Danville area for their state qualifier, that tourney to begin on Monday, although a site and game times have not yet been posted.
The 8-10 team, now 3-0. was first up Saturday after the games had been postponed due to Friday rain. Head coach Steve Shade's team was methodical in posting runs in four different innings while holding Loyalsock to three hits. Shade said his offense was able to go to "small ball" when the usual big hits were not there (Keystone had defeated 'Sock 26-1 in a first round game a week earlier).
Shade said his team is built around speed, pitching and defense and it showed all three in the win. Starting pitcher Hart Fletcher and reliever Darius Shade combined on a 3-hitter, combining for four strikeouts and three walks. Shade at second base was strong, combining with first baseman Jase Seltzer on five putouts, two of them with Seltzer fielding a groundball and getting it to Shade covering at first.
Meanwhile the Keystone 10s did what they had to do at the plate. Blake Walker scored the team's first run; after a walk he came around and crossed the plate on a wild pitch. A second run scored in inning two when Nolin Cross tripled to the centerfield fence and came in on a sacrifice bunt from Hunter Donley. Keystone scored three insurance runs in the bottom of the fifth, taking advantage of three walks, a single from Cross, a 'Sock error and an RBI single from Griffin Kerstetter, his second hit of the game.
Cross finished with his triple and single, Kerstetter with two singles. Shade added a single, as did Gavin Karstetter and Cole Bailey.
| | | | | | | | | | |
| --- | --- | --- | --- | --- | --- | --- | --- | --- | --- |
| July 15 | 1 | 2 | 3 | 4 | 5 | 6 | R | H | E |
| LOYALSOCK | 0 | 0 | 1 | 0 | 0 | 1 | 2 | 3 | 3 |
| KEYSTONE | 1 | 1 | 0 | 1 | 3 | X | 6 | 7 | 2 |