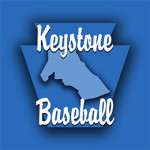 CARLISLE – The Keystone Intermediate All-Stars used a balanced effort to erase a 6-2 Norwin lead for an eventual 10-8 victory in the second round of the Pennsylvania state championship tournament.
Led by some heavy hitting efforts from Blade Myers, 4-for-5 with 2 singles, a double and home run; Ryan Thompson, 4-for-4 with 4 base hits; Cayde McCloskey, 3-for-4 with 3 singles and Aiden Major, 3-for-4 with 2 doubles and a single.
Keystone scored a pair of runs in the top of the first inning resulting from a double from Myers and a single from Major. Myers and Major advanced on the bases with a double steal and were driven home by a base hit from Thompson to give Keystone the 2-0 lead.
That narrow lead wouldn't last long as Norwin used 3 hits, 4 walks and 5 stolen bases to to plate 6 runs to lead Keystone 6-2 after one full inning of play.
Then Keystone began chipping away at that lead by scoring 2 runs in the second inning with a double from Aaron Miller and a single from Myers to close the gap to 6-4 in favor of Norwin.
Keystone would then knot the score 6-6 in the third inning off another base hit from Ryan Thompson and a 2 RBI homer from Brady Bendik.
Blade Myers tacked on another run in the top of the fourth inning with a solo dinger to give Keystone a 7-6 lead.
Then in the top of the seventh inning, Ryan Thompson pounded out this third base hit of the night to start things off. Two outs later, Braedon Confair had a base hit and followed up with a 3-run homer to give Keystone a 10-7 advantage.
Norwin would answer back in the bottom of the seventh 2-run homer of their own but Keystone would prevail 10-8.
Major was the starter on the mound with Keystone recording 11 strikeouts, allowing 5 walks and 8 hits in the game.
Keystone will receive a day of rest for the win and face Kennett Square, a 12-5 winner over host Carlisle in the winner's bracket final at 4 p.m. Saturday, July 15.
| | | | | | | | | | | |
| --- | --- | --- | --- | --- | --- | --- | --- | --- | --- | --- |
| July 13, 2017 | 1 | 2 | 3 | 4 | 5 | 6 | 7 | R | H | E |
| KEYSTONE | 2 | 2 | 2 | 1 | 0 | 0 | 3 | 10 | 16 | 0 |
| NORWIN | 6 | 0 | 0 | 0 | 0 | 0 | 2 | 8 | 8 | 0 |