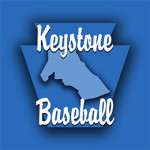 CARLISLE – The Keystone Intermediate 50/70 All-Stars opened play in the State Little League Championship tournament with a decisive 12-0 win over Levittown.
After retiring Levittown in order, Keystone opened their scoring in the first inning on a walk by Blade Myers singles from Aidan Major, Ryan Thompson and Brady Bendik.
Keystone added to their total in the second inning Kayden Friese worked a walk followed by single from Blade Myers, a double from Cayde McCloskey, a base hit from Kaden Falls and a double from Major to give the Keystoners a 6-0 lead after 2 inning of play.
In the third inning, Keystone doubled up on the scoreboard by getting the bats cranking once more.
Aaron Miller led off with a solo home followed by a bunt single from Brayden Confair. Lane Porter took one for the team when he was hit by a pitch followed by a line drive single from Myers. Then Falls slammed out a 3 RBI home run.Then it was back-to-back-to-back singles from Major, Thompson and Bendik. Then Confair would hit his second base hit of the inning. All that effort gave Keystone the 12-0 lead.
The Keystone pitching staff hurled a shutout against Levittown with McCloskey getting the start giving up one hit, 2 walks and striking out 4 batters in 2 2/3 innings of work.
Falls came in for 1 1/3 innings striking out 3 batters in the process. Bendik came on the mound for the last two outs, earning one strikeout in the process.
Keystone now moves on to the second round to face Norwin, who was idle today, at 4 p.m. tomorrow, July 13, 2017.
| | | | | | | | | | | |
| --- | --- | --- | --- | --- | --- | --- | --- | --- | --- | --- |
| July 12, 2017 | 1 | 2 | 3 | 4 | 5 | 6 | 7 | R | H | E |
| LEVITTOWN | 0 | 0 | 0 | 0 | 0 | X | X | 0 | 1 | 2 |
| KEYSTONE | 2 | 4 | 6 | 0 | X | X | X | 12 | 16 | 1 |