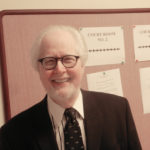 LOCK HAVEN — Clinton County Judge Michael Salisbury Tuesday withheld a response to local businessman Steve Poorman in his legal action against the City of Lock Haven. Instead Judge Salisbury offered Poorman and city solicitor Justin Houser an opportunity to get together to resolve their differences; otherwise an order will be forthcoming.
Poorman began his legal action in May, asking the court to force the city to enforce its ordinances on a variety of topics, from parking tickets to noise levels in the downtown.
On Tuesday Poorman accused the city of "selective enforcement" of its ordinances and went into detail on its meter enforcement program and the city's failure, he said, to take code enforcement action against the Fallon Hotel, a structure he described as "falling down." He reiterated concerns about speeding vehicles in the downtown, describing it as a racetrack.
The hearing lasted less than an hour. City legal counsel Houser challenged that Poorman had no legal standing to bring his "writ of mandamus," asking the court to direct the city to take a variety of actions relative to nine different areas of concern. Houser offered case law to support the city position. He said the city has no mandatory duty relative to enforcement of its ordinances. Houser said Poorman's status as a city resident is not sufficient to give him standing before the court. Poorman countered by stating he has $4,411,556 invested in the city and also that he represents out-of-state investors and that his concern is "the health and safety of the city."
Judge Salisbury raised questions to Poorman about his legal status to bring his suit into common pleas court but gave no indication as to how he might rule should the city and Poorman not resolve differences by the end of this week. Poorman expressed a willingness to meet with city officials but Houser said he would have to go back to City Hall to ascertain if the city wants to meet with Poorman about his litany of complaints.