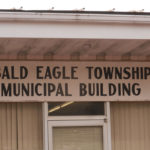 LOCK HAVEN — Twelve Bald Eagle Township residents have applied to fill the two township board of supervisor vacancies. Clinton County President Judge Craig P. Miller said today will hold interviews this week with the Bald Eagle Township residents who have come forward.
Those being considered, according to a release from the court, are in alphabetical order: Girard Banfill, Michael Considine, Jr., James Gill, Jeff Gummo, Diane Maggs, Jesse Overgord, Charles "Pete" Peters, James Phoenix, Clarence "Tuff" Rhine, Barry Rodabaugh, Chris Stoner and Terry Williams.
The dual supervisor vacancies arose shortly after the Pennsylvania Ethics Commission announced violations against supervisor James H. Bechdel Sr. and his brother, fellow supervisor, Jack B. Bechdel, prompting their resignations.
The twelve residents will be interviewed this week, with the last round scheduled for Thursday afternoon. Judge Miler stated, "I intend to make my decision by Friday afternoon at the latest; Bald Eagle Township will have a full slate of supervisors for their next meeting."