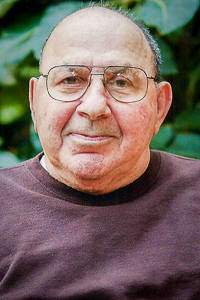 Eugene L. "Nose" Ferrara, 86, of Lock Haven, passed away Tuesday, July 4, 2017 at Susque View Home.
Born on June 3, 1930 in Lock Haven, he was the son of the late Samuel Xavier and Genevieve Morasco Ferrara.
After graduating from Lock Haven High School in 1950, Nose served in the United States Air Force for four years before transferring to the National Guard from which he retired.
He married the former Beverly Schiavo who preceded him in death on December 21, 1998.
Nose was employed by Piper Aircraft before working for Penn Dot until his retirement.
On July 2, 2005, he married the former Joy L. Russell who survives.
Nose was a member of Holy Spirit Parish, St. Agnes Catholic Church.
He was also a member of the Sons of Italy, Elks, and a former member of the Woodward Township Sewer Authority.
Nose was a life member of Hope Hose Fire Co. and served for 8 years as the Fire Chief for the City of Lock Haven.  He was also a member of the Central District Fireman's Association.
He served as the Past President of the Lockettes' Parent Association and was a cook at Camp Cadet for many years.
In addition to his wife, he is survived by a son, Stephen Ferrara of Williamsport; two daughters, Debra (Michael) Morris Clover of Belleville, IL and Brenda Wilson of Lock Haven; two step-sons, Jerry Lee McGill and Denny L. McGill, Sr., both of McElhattan; a sister, Geraldine (Lewis) Summers of Lock Haven; 14 grandchildren; and 4 great grandchildren.
He was preceded in death by 7 brothers and 6 sisters, including his twin sister.
A Mass of Christian Burial will be held on Monday, July 10, 2017 at 11 a.m. at St. Agnes Catholic Church, 3 E. Walnut St., Lock Haven.  Burial with Fireman's and Military Honors will follow at Rest Haven Memorial Park, Lock Haven.
Friends and family will be received at the Donald G. Walker Funeral Home, Inc., 231 High St., Flemington on Sunday, July 9, 2017 from 6 until 8 p.m.
Memorial contributions in Nose's name may be made to either Camp Cadet, Hope Hose Fire Company, or Susque View Home through the funeral home.
Online condolences may be given by visiting www.donaldwalkerfuneralhome.com