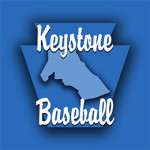 BEECH CREEK – The Keystone Intermediate 50/70 All-Stars picked up right where they left off in 2016 … pounding the ball with their bats early and often to earn a decisive 15-1 five-inning victory over Danville in first round action for the Section 3 Little League crown.
The 50/70 squad is primarily the same team that made it all the way to the Mid-Atlantic championship final in Bristol, CT in 2016 and came one game short of making the trip to the Little League World Series. This year, Keystone hopes to make a similar impact in the older division on a slightly larger field.
Keystone jumped out early with Blade Myers blasting a solo homer to lead off for the home team. Cayde McCloskey followed with a single then Kaden Falls pounded out a triple to score McCloskey Then Aiden Major went 'yard' scoring himself and Falls. Then Ryan Thompson had his first of two base hits on the night. Later, Aaron Miller stroked out a solid double to plate Thompson to give Keystone a solid 5-0 lead.
It was more of the same in the second inning with with Myers and McCloskey recording doubles and singles from Falls, Major and Thompson. Then Nash Welch slammed a homer followed by a base hit from Miller which scored 8 more runs to put them up 13-0 over Danville after two innings.
Keystone added their final two runs in the third inning as a result of a double from Myers, base hits from McCloskey, Falls, Major and Brady Bendik.
Hitting wasn't Keystone's only offensive weapon as Falls, Major and Miller each had a pair of stolen bases with Ryan Thompson a lone steal to his credit.
On the defensive side, Keystone was just as dominating with McCloskey going the distance striking out 11 of the 17 batters he faced in five innings of work. McCloskey gave up only one hit in the game, a fifth inning homer for Danville's only score.
There were only two entrants in the Section 3 tournament in the Intermediate division with Keystone as hosts for 2017. It is a best of 3 bracket and the second game will be played tomorrow, July 6, 2017 at 5:30 p.m. The winner of Section 3 will advance to the state championship tournament to be held July 12-17 in Carlisle, PA.
| | | | | | | | | | | |
| --- | --- | --- | --- | --- | --- | --- | --- | --- | --- | --- |
| July 5, 2017 | 1 | 2 | 3 | 4 | 5 | 6 | 7 | R | H | E |
| DANVILLE | 0 | 0 | 0 | 0 | 1 | X | X | 1 | 1 | 0 |
| KEYSTONE | 5 | 8 | 2 | 0 | 0 | X | X | 15 | 21 | 0 |