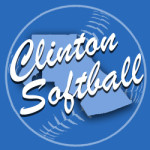 SOUTH WILLIAMSPORT – The Clinton Major Softball All-Stars fell to District 12 rival, Loyalsock in the first round and battled back to earn a shot at redemption in the championship final at Volunteer Stadium tonight, That effort fell a bit short with Clinton falling 8-3 to 'Sock to end their 2017 Little League season.
Clinton opened the game with a stingy defense retiring the Loyalsock batters in order in the top of the first inning, with 'Sock returning the favor in the bottom half to keep the score at 0-0 after one full inning,
Then in the second inning, Loyalsock found their offensive stride, putting together 2 singles, a triple, 3 walks and a Clinton error to put 5 runs on the board.
'Sock added 2 more runs in the third inning to hold a 7-0 lead heading into the fourth inning.
Caitlyn Watson opened up that fourth inning with a triple, then Emma Poorman and Allison Lininger earned walks, then Hayley Burrows added a base hit to the effort for Clinton to post three runs to narrow the gap to 7-3.
Loyalsock would add an insurance run to their total in the fifth inning to close out the scoring for the night. The remainder of the game, Clinton held the 'Sock offense in check.
In the last three innings, even though Clinton made good contact with the ball, Loyalsock kept their defensive effort in prime form denying and further threats.
Clinton offered a pitch-by-committee effort in the game with Lininger, Poorman and Watson seeing time in the circle on the night. The trio put up a combined effort of 5 strikeouts, 6 walks and gave up 9 hits.
Harley Kunes also had a base hit for Clinton.
It's always sad to see a promising tournament come to a close, though, there was plenty of good sportsmanship after the game with both teams showing appreciation for their opponent's efforts. In fact, the Loyalsock squad invited the Clinton girls to join them in a celebratory photo with the District 12 Championship pennant they had just earned.
| | | | | | | | | | |
| --- | --- | --- | --- | --- | --- | --- | --- | --- | --- |
| June 29, 2017 | 1 | 2 | 3 | 4 | 5 | 6 | R | H | E |
| LOYALSOCK | 0 | 5 | 2 | 0 | 1 | 0 | 8 | 9 | 0 |
| CLINTON | 0 | 0 | 0 | 3 | 0 | 0 | 3 | 3 | 3 |