By LaKeshia Knarr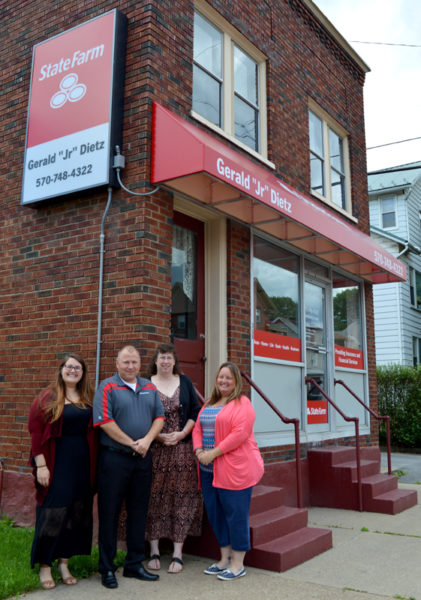 LOCK HAVEN – From the U.S. Army to your local State Farm Insurance agent, Lock Haven native Gerald Dietz Jr. is ready to serve you.
Dietz took over as the agent of record at State Farm Insurance, 358 E. Main St., Jan. 1, following long-time agent Tom Cruse's retirement. He is excited about his new position and serving the community that raised him.
"I give most of the credit for where I am to my military service," Dietz said.
After almost three years of preparing for this work through the State Farm Licensing & Training Path program, Dietz is eager to get to work.
"I'm excited because I've got a good team," Dietz said.
His staff includes Ivana Trader, who has served the office for 24 years; Ashley Gentzyel, Ivana's daughter; Kathy McCloskey; as well as Jordan Moyer, Dietz's 21-year-old daughter.
His predecessor and Trader were the primary staffers at the office prior to this year, Dietz explained.
"Now, we have a larger staff. We're covering more of the areas that may not have been covered in the past," he said, adding that State Farm offers over 100 different products. "We're pretty much a one-stop shop."
Products range from your typical auto and home insurance to auto loan financing and beyond, including commercial lines for businesses and hospital income insurance, he explained. The latter, he noted, reimburses $250/day if the individual(s) covered under the policy requires the use of a hospital bed.
A Fortune 500 company, State Farm has the assets to pay claims for covered losses, he noted.
"When I got in the industry, I looked at other programs and couldn't find others as good as State Farm, especially for a new agent. The support was there," he said. "We can call Claims & Underwriting 24/7. The support is always there."
Dietz is also planning to work with Keystone Central School District so that students can earn paid work experience through a cooperative program offered through the school.
"I'm a hometown guy.  I want to see good things for locals," he said. "If I can help with insurance sales and covering their needs, then I'm all about it."
Dietz enlisted in the U.S. Army Reserves in 1992, a year after graduating from Lock Haven High School. He was deployed to Iraq in 2005.
After earning his Bachelor of Science degree in Recreation Management from Lock Haven University in 2007, he was employed as an activities specialist at the State Correctional Institute at Muncy.
He later went back into active duty as a Reservist and began recruiting in Lock Haven and Williamsport before servings as an operations and trainings non-commission officer.
He and his wife, Stephanie, are parents to sons Hayden, 10, and Holden, 8.