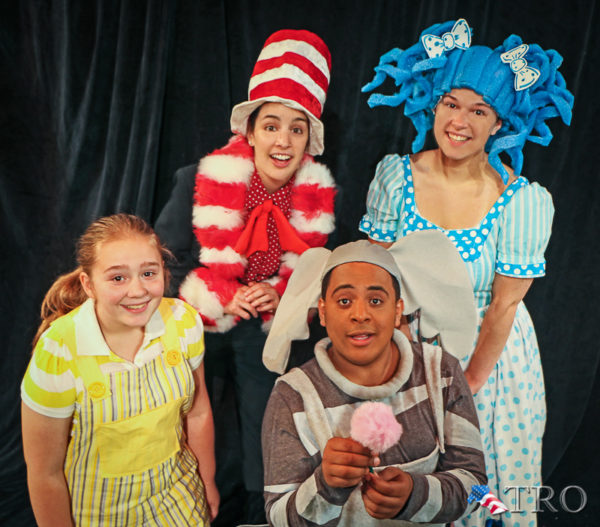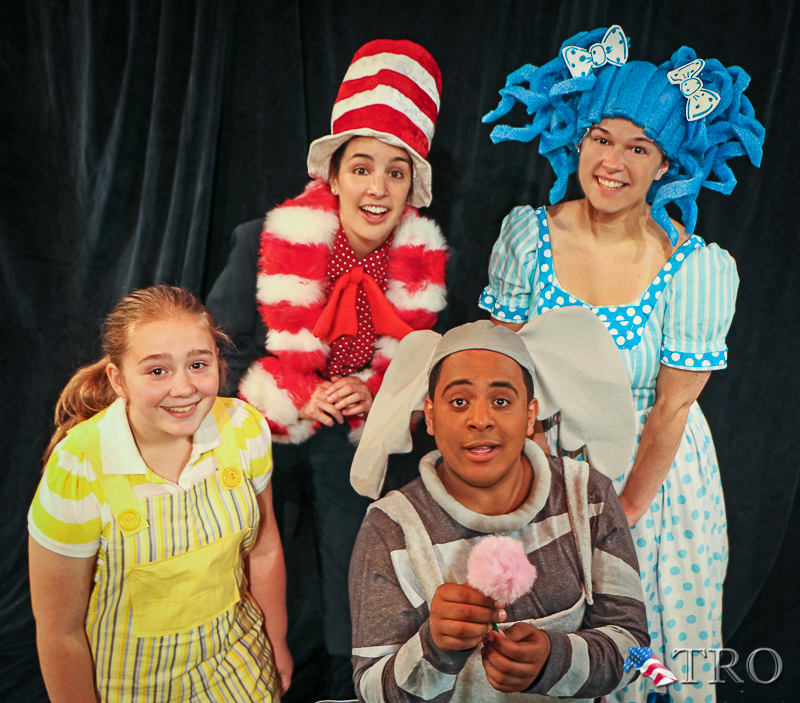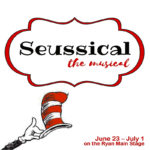 MILL HALL – The Board of Directors and Artistic Director, David E. Leidholdt, are thrilled to present the fantastical, family musical extravaganza, SEUSSICAL THE MUSICAL, featuring a multi-talented cast of 21 kids, teens and professional actors.
SEUSSICAL THE MUSICAL brings to life all of our favorite Dr. Seuss characters, including Horton the Elephant, The Cat in the Hat, Gertrude McFuzz, amazing Mayzie and a little girl with a big imagination – Jojo. The colorful characters transport us from the Jungle of Nool to the Circus McGurkus to the invisible world of the Whos. The Cat in the Hat tells the story of Horton, an elephant who discovers a speck of dust that contains the Whos, including Jojo, a Who child sent off to military school for thinking too many "thinks." Horton faces a double challenge: not only must he protect the Whos from a world of naysayers and dangers, but he must guard an abandoned egg, left in his care by the irresponsible Mayzie La Bird. Although Horton faces ridicule, kidnapping, and a trial, the intrepid Gertrude McFuzz never loses faith in him. Ultimately, the powers of friendship, loyalty, family, and community are challenged and emerge triumphant. Seussical is fun for the whole family!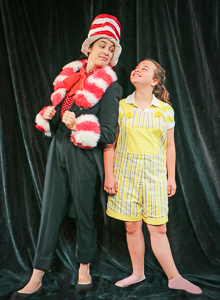 The cast features Alex Frost, fresh off her mesmerizing role as Lois in Life Could Be a Dream, as the Cat in the Hat and Millbrook newcomer Joshuah D. Simpson as Horton, with Kali Haines (Rock of Ages, The Wizard of Oz) as Gertrude, and and local actors Ivy Patterson and Kendall Eichenlaub sharing the role of Jojo. The cast also includes Catherine DeLuce as Mayzie La Bird, Jenna Miller as the Sour Kangaroo, David Groccia and Brooke Reese as Mr. Mayor and Mrs. Mayor, Aaron Kelley as the General, Ricky Marchese, Alex Beard, and Dax Valdes as Wickersham Brothers and Aimee Hunsinger, Meghann Reeder, and Morgan Sichler as bird girls. Also featuring members of the Millbrook Playhouse Youth Ensemble: Olivia Hanna, Troy Prebble, Elaina Shaffer, Maia Crowell, Elizabeth Shaffer, Abigayle Greevy, Emily Chapman, Lily Ann Gugino, Olivia Miller, Izabelle Hogg, Kelly Long, Trinity MIller, Katelyn Boyd, and Madi Meeker.
SEUSSICAL THE MUSICAL, written by the esteemed, Tony Award winning team of Lynn Ahrens and Stephen Flaherty, is Directed by Millbrook's Artistic Associate, Matt Spencer (Elf the Musical Jr.) and choreographed by Dax Valdes (Life Could Be a Dream, The Marvelous Wonderettes, Caps and Gowns), Music Directed by Mo Ortbal, Set Design by Nicholas Schwartz, Costume Design by Antonio Consuegra, Lighting Design by Ethan Vail, Props Design by Savannah Draper, and Sound Design by Damien Figueras.
Don't miss imaginative spectacle for the whole family at the Millbrook Playhouse on the Ryan Main Stage Fri. June 23 and Sat. 24 at 7:30 p.m., Sun. June 25 at 2 p.m., Wed. June 28 at 2 & 7:30 p.m., Thur. June 29 and Fri. June 30 at 7:30 p.m., Sat. July 1 at 2 & 7:30 p.m.. Premium Seating tickets are $25 for adults, $15 for students and $10 for children. Budget Seating tickets are $20 for adults, $12 for students, $8 for children.
Also available is the SEUSSICAL THE MUSICAL Family Pack Discount. Any combo of 2 adult tickets and 2 kids or students tickets 20% off. Good for the following performances only: Sun., June 25 at 2 p.m., Wed., June 28 at 2 p.m. & 7:30 p.m., Sat., July 1 at 2 p.m. Must call to reserve. Family Pack Discount available for premium seating only. One per family. Group rates are also available. You can purchase tickets by calling 570-748-8083, online at www.millbrookplayhouse.org, or by coming to the box any day of the week. Box office is open Mon. and Tues. 9 p.m.-5 p.m. and Wed. through Sun. 9 a.m.- 9 p.m.