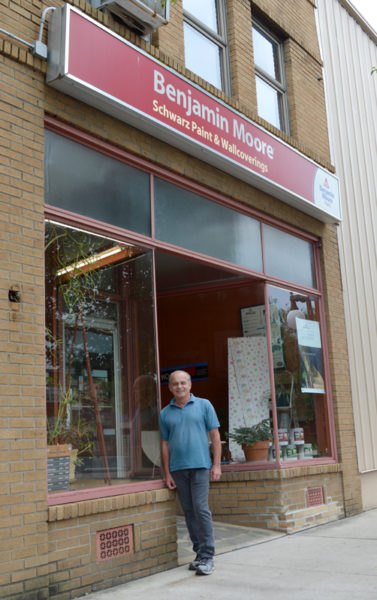 By LaKeshia Knarr
LOCK HAVEN – It's been a cornerstone community business for nearly 125 years and has been located at the same spot at 108 Bellefonte Avenue since before the Great Depression, but come June 30 Schwarz Paint & Wallcoverings will close its doors. With it will go one of the last independently-owned paint stores in the region.
As the fourth generation of his family to run the local paint and sundries shop, Tom Galitski now has an official 43 years of work under his belt and is ready to retire.
His great-grandfather, Lee J. Schwarz, first opened Schwarz Paint & Wallcoverings back in 1894. The business was passed down the line, first to Galitski's maternal grandfather, Hayes Schwarz; and then to his mother, Arlie (and Tom) Galitski.
Galitski took over the store in the late 90s, with Arlie continuing to work alongside him. The company currently employs two full-time staff, including Galitski and Noreen Raudabaugh, as well as a part-time bookkeeper, Janice Johns.
Galitski's two daughters, Debbie and Kristen, have careers in the medical field in Arizona and North Carolina, respectively, and won't be back to continue the family business.
And although Galitski is looking forward to his retirement, he knows he will miss a lot of aspects of running the business.
"It's going to be the people I work with and the customers that I miss the most because I won't get to see them as often," he said. "We have families who have bought paint here for more than three generations."
Throughout his career, Galitski's curiosity about the materials of his industry also kept him engaged.
"I enjoyed the technical part of the business more than the sales part," he admits, saying he often preferred to be tucked away in the back, mixing paints and studying the products' characteristics.
In fact, Galitski spoke of when the family first purchased a color computer, used to mix paint to match other samples, but noted that he hardly uses it anymore.
"I can color match almost anything by eye," he said.
Having witnessed industry changes over the last several decades, Galitski is aware that there are fewer and fewer small businesses available and he questions what that means for communities.
"Above Harrisburg, there are probably only three or four independent paint stores left," he estimated. "Others have become hardware co-ops and things like that… It's definitely changed over the last 40 years and is going more toward corporate big box stores. With independent stores closing, I think communities are losing out on all that experienced knowledge – regardless of the type of business, and it's sad really."
With the news of the business closing spreading throughout town, there has been one thing that came unexpectedly, according to Galitski.
"I was really taken aback by all of the people coming in just to say 'thank you,'" he said. "We've had very loyal customers for generations and, in a way, it's really sad and emotional that I'm the end of the line."
Regardless, Galitski is looking forward to the retirement he has planned.
He and his wife Daeng own a home in Hua Hin, Thailand, and will be splitting their time between their two homes.
Galitski also owns the historic building that houses Schwarz – which includes two storefronts, three upstairs apartments and a newer warehouse. He intends to maintain the building and hasn't solidified any plans to fill the storefronts, but admits he may sell it in the future.
The store is offering a closing sale until the shop closes June 30: paint is discounted 30 percent and related materials are marked down 40 percent.
To learn more about the storefront space, email patom49@gmail.com.
This slideshow requires JavaScript.