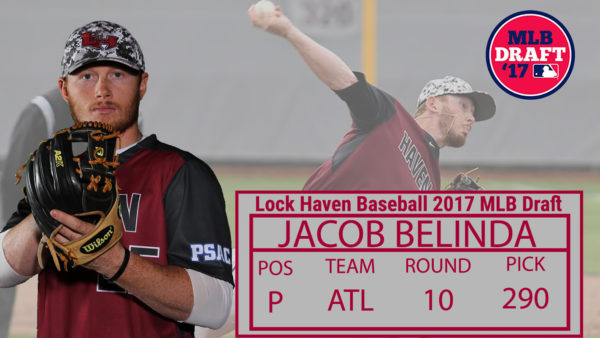 SECAUCUS, N.J. – Former Lock Haven University pitcher Jacob Belinda (Port Matilda, Pa./Tyrone) was selected by the Atlanta Braves Tuesday in the 10th round (290th pick) of the 2017 MLB Draft.
Belinda, who capped a solid four-year career for the Bald Eagles in the spring, is just the second player in school history to be selected in the MLB Draft, and he's LHU's first ever top-10 round draft pick.
This past spring Belinda went 6-2 and led LHU back to the postseason for the first time since 2009. The 6-foot right-hander struck out 78 batters, which marked the most strikeouts in school history for a single-season, and his six wins are the tied for the fifth-most in a single-season.
Belinda was named to the 2017 All-Pennsylvania State Athletic Conference (PSAC) First Team after the season.
His 206 career strikeouts are the second most in school history.
Prior to the start of the 2017 season – Belinda's senior campaign at LHU – he was named a 2017 Player to Watch by Collegiate Baseball Newspaper.
After sensational 2016 summer season with the West Virginia Miners of the Prospect League, Belinda was named the league's No. 9 prospect (September 2016). Belinda started the Prospect League All-Star game and finished the summer with a team-high 69 strikeouts. He made 10 appearances, nine starts, and finished with five wins and an impressive 2.06 ERA.
A number of former LHU players have gone on to successful professional baseball careers, but only one other player in school history previous to Belinda was selected in the MLB draft. In 1986, pitcher Tom Sepela was picked by the Boston Red Sox in the 21st round (537th pick).