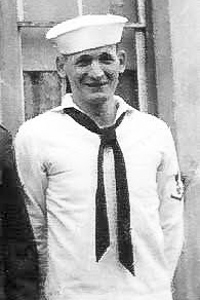 Gordon E. "Ding" Kriner, 96, formerly of North Bend, passed away Wednesday, May 31, 2017, at Bucktail Medical Center, Renovo.
Gordon was born in North Bend on March 24, 1921, the son of the late Howard F. and Emily J. Emery Kriner.  He remained in his family home until 2015 when he became a resident of Bucktail Medical Center.
He was a 1939 graduate of the former Renovo High School.
Gordon was a WWII Naval Veteran, serving from 1943 to 1945, obtaining the rank of Watertender 3/c, and serving aboard the USS Marblehead.
On November 14, 1952, he married the late Violet J. Probst.
Gordon was employed with the former Pennsylvania Railroad, with 23 years in the Renovo shops as a car repairman and then 18 years a conductor, retiring in 1982 after 41 years of service.
He was a member of the United Methodist Church of North Bend, a life member of the Renovo Elks, American Legion of Renovo, and a member of the Masonic Temple of Renovo.
He is also preceded in death by five sisters and five brothers.
"Uncle Ding" is survived by several generations of nieces and nephews, three sisters-in-law and their husbands, and many friends he made throughout his lifetime, including the wonderful staff at Bucktail Medical Center.
He will be greatly missed, but his memory will live on through those of us who probably have more than one "Ding story" to tell.
A graveside memorial service will be held on Wednesday, June 28, 2017 at 2 p.m. at North Bend Cemetery, 112 Strawberry Alley, North Bend, Pa 17760 with Rev. James Conway officiating.
Memorial contributions can be made to Bucktail Medical Center, 1001 Pine St., Renovo, PA 17764; Renovo Library, 317 7th St., Renovo, PA 17764; or Chapman Township Volunteer Fire Company, North Bend, PA 17760.
Arrangements are under the direction of the Moriarty Funeral Home & Crematory, 112 E. Church St., Lock Haven, Pa 17745.