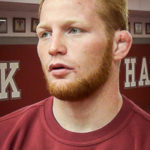 AKRON – Chance Marsteller, representing the Mat Town USA wrestling program, swept to the 163 pound title at this weekend's University Nationals at Stile Athletic Field House in Akron.
In two days of competition Marsteller dominated six opponents, piling up technical falls in all of them, five in the first period. The only bout Marsteller was extended into the second period was his quarterfinal match with Cole Walter, a former Mifflinburg High School wrestler who was representing the Lehigh Valley Wrestling Club. The score was 15-4 Marsteller.
He spent just 3:38 on the mat in his semifinal and championship bout wins. His final bout was a 10-0 tech fall over Connor Flynn from the Missouri Wrestling Foundation.
Marsteller, in a post-match interview on Flo Wrestling, thanked the Lock Haven community for its continued support. He presently is on probation in Clinton County, the result of an off-the-mat run-in with the law last summer. The York County native is back in school at Lock Haven University and noted he recorded a perfect 4.0 grade point average in the spring semester.
Marsteller, a four-time and undefeated PIAA wrestling champion, is hoping to rejoin the LHU wrestling program sometime during the course of the next year.