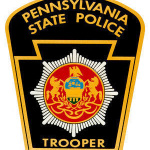 GREENE TOWNSHIP — A Loganton man has succumbed to injuries sustained when struck by a vehicle while walking on Route 880 in Sugar Valley last Saturday morning.
State police identified the victim as Richard Breon, age 79. Their report said he passed away at Geisinger Medical Center in Danville where he had been life-flighted following the 9:55 a.m. Saturday incident.
According to the police report, a vehicle operated by Danny Garverick, 69, of Loganton had been traveling east in the east bound lane of State Route 880 (the West Valley Road). Investigating officer Kyle Witmer reported that Breon attempted to cross the roadway from the south to the north near a private driveway in front of 638 West Valley Road and entered the east bound lane in front of the Garverick vehicle. Garverick told police he saw the pedestrian begin to cross the roadway and reacted by applying his breaks and swerving to the left. The right front of the Garverick vehicle struck the pedestrian who came to rest on the south shoulder of Route 880.
Police said the Garverick vehicle sustained minor damage and the driver was not injured. They were assisted at the scene by personnel from the Sugar Valley Fire Company, Goodwill Hose ambulance and Geisinger Life Flight.