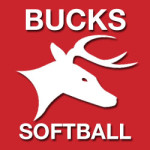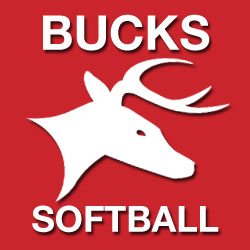 TURBOTVILLE – It was a key first inning in the second round District 4 A softball confrontation between the Lady Bucks and Northeast Bradford. Unfortunately it was the Panthers fortunate big start that would prevail over the Lady Bucks, falling 14-0 to NEB.
In the top of the first inning, Bucktail was working well with lead off batter, Maria D'Onofrio stroking out a base hit, then one out later, Myka Poorman would lay down a sacrifice bunt to move D'Onofrio to scoring position, though, the offensive threat would end there for the Lady Bucks.
For the Lady Panthers, however, it would be a very different story. NEB pounded out six total hits in the bottom of the first inning, including two, 2-run homers to build a commanding 6-0 lead.
Northeast Bradford tacked on 3 more runs in the second inning for an 9-0 advantage. NEB then scored 5 more runs in the third inning, all the while holding Bucktail scoreless to earn the 4 inning, 14-0 shutout mercy rule shortened game.
"For the first time we ever made the playoffs and to make it to the semi-final game means a lot," said Bucktail head coach, Mike Poorman, "We knew they were a very good team coming in. We knew they were going to hit the ball well, obviously two homeruns in the first inning are hard to stop. Even though we came up short today, I can't be any more proud of these girls," Poorman added.
Though the Lady Bucks didn't fare as well as they hoped, there was no quit in their effort. It would have been easy to give up under the circumstances but they did not. On a sharply hit ball by NEB's fastest base runner, Bucktail shortstop, Kayli Casper made a terrific grab, catching the back half of the ball as it almost made it through the gap then a laser throw to D'Onofrio at first base for an unassisted 6-3 double play to end the inning.
"I would say that's the biggest difference for us this year over last year," Poorman explained about his teams desire to stick with it when the going gets tough, "In the games we have been down in, our girls keep battling and continue to play. It's only going to make them better.
Myka Poorman went the distance in the circle for Bucktail yielding 12 hits and four walks on the day.
Bucktail ends their season at 10-9, 1-1 in the post season. The Lady Bucks will also say farewell to their two seniors, Amanda Tyrell and Renee Werts.
The 2017 season may be over, but several of the Lady Bucks are starting their training for next year by heading to a travel team tournament in Harrisburg this weekend.
| | | | | | | | | | | |
| --- | --- | --- | --- | --- | --- | --- | --- | --- | --- | --- |
| May 26, 2017 | 1 | 2 | 3 | 4 | 5 | 6 | 7 | R | H | E |
| BUCKTAIL | 0 | 0 | 0 | 0 | 0 | X | X | 0 | 1 | 1 |
| NORTHEAST BRADFORD | 6 | 3 | 5 | 0 | X | X | X | 14 | 12 | 0 |