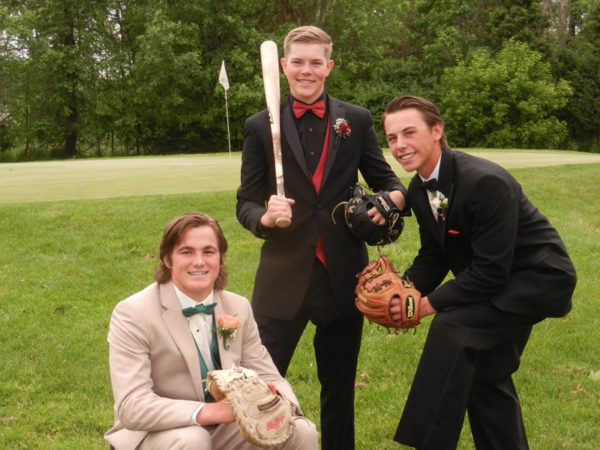 BALD EAGLE TOWNSHIP — Central Mountain is hoping for a little role reversal when it goes for the school's second-ever District 6 baseball title at Altoona's Blair County Ballpark Saturday at 1 p.m.
.
One year ago the Wildcats were 19-2 heading into the title game against Mifflin County, the Huskies 15-6 coming in. But Mifflin County upset the Wildcats by a 6-2 score to earn that school's first-ever district crown. This time around the Hollidaysburg Golden Tigers, 16-1 overall and the top seed, will be the favorite, the Wildcats going into the contest as the #2 seed with a 13-7 record after an 0-3 start.
CM does bring back a starting pitcher with title game experience in Ethan Watkins. The senior right-hander worked three-plus innings of one run relief ball in last year's district final. Watkins has been solid all season, compiling a 3-2 record with an earned run average of 1.34, striking out 44 and walking 15 in 52 innings.
Veteran coach Mike Kramer said the Wildcats have been working extremely hard this week in preparation for Saturday. He lauded Hollidaysburg, currently ranked as the top team in the state by MaxPreps. He said they have five college commitments, two Division I on their roster.
Kramer said his team has not forgotten the Wildcats' 9-3 loss to the Golden Tigers back on March 29: "We have a sour taste in our mouths from the 9-3 loss at the beginning of the season. We are a much better team now as compared to the beginning of the year and I am excited to have the opportunity to play Hollidaysburg again."
Kramer said the Wildcats must take his "one pitch at a time approach, controlling what we can control." He said pitching is going to set the tone and solid defense will put the Wildcats in a position to win. The Wildcats have committed 40 errors in their 20 games. Individual fielding statistics were not available for Hollidaysburg; the Tigers gave up 50 runs on the year, 40 of them earned. Central Mountain pitchers surrendered 70 runs, 49 of them earned.
Kramer said Hollidaysburg has a number of top pitchers. The best numbers are from senior Nolan Walters. He compiled a 3-0 regular season mark with an ERA of 2.89, striking out 27 in 36 innings while walking 28.They can also call on sophomore Sam Servello who was 3-0 with a 1.14 ERA; he struck out 36 while walking 24 in 24 innings.
Walters and Servello split pitching duties in the March game played at Mill Hall Community Park. Walters got the win as the two combined on a 5-hitter; they struck out six and walked seven. AJ Smith started and took the loss for CM as the Wildcats used four pitchers in the early season game. Watkins did not see action.
"Our team has demonstrated that they can take on a challenge and overcome. I know that we are going to battle and that is all I can ask of our guys," Kramer said.
Saturday's game will be for the District 6 Class 5A division. It is unknown at this point where the winner will go in what would be a PIAA tourney play-in game. Other teams reported in the running are Erie Prep from District 10 and DuBois from District 9.
Meanwhile two Keystone Central School District softball teams are hoping to continue their postseason: The Bucktail Lady Bucks, Thursday rained out of a District 4 Class A semi-final, will play Friday at 4 p.m. against North East Bradford at the Moser Complex in Turbotville. The District 6 Class 5A champion Central Mountain softball team will play next Wednesday, May 31, against Meadville, the game scheduled for 4 p.m. at the Penn State-Behrend campus in Erie.