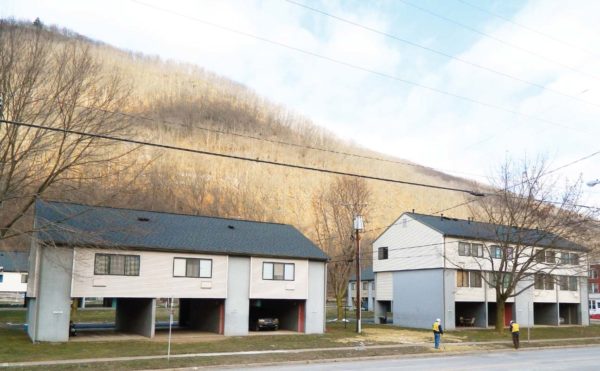 RENOVO — With federal approval in hand, the Clinton County Housing Authority has moved ahead with the process to vacate and sell its Mills Park housing complex in the east end of Renovo.
Approval for the sale was received last week from HUD's Special Applications Center in Chicago, according to Authority executive director Jeff Rich. The county authority received the go-ahead to dispose of nine buildings housing 27 public housing units and surrounding land. The Mills Park area includes the units on 13th and 14th Streets, St. Clair Avenue and Huron Avenue. Rich said the John Simon Community Center is not part of the disposition.
The federal approval follows a two-and-a-half year effort to sell off the units; the actual application seeking HUD approval was filed a year ago.
Rich said a benefit to Renovo borough is the property will be returned to the tax rolls once the sale to a private owner is complete.
He said for the past decade Renovo has had vacancy rates much higher than authority units in Lock Haven, "well outside the mark HUD considers acceptable." He noted that declining population, a declining economy and lack of services were all contributing factors that were beyond the Authority's control. "Reducing the supply to match the demand was the best solution. Mills Park units are the only units in the Authority's portfolio where tenants pay utilities. Tenants often have difficulty establishing utility accounts and even with the utility allowance provided by the authority, most struggle to keep their accounts paid current. This was a major consideration in deciding which units to eliminate, " he said.
The authority executive director offered this timeline for the Mills Park disposition: Current residents will be notified of the housing choices available to them and relocation will begin in approximately 90 days. Concurrently, the Authority will prepare a "request for "proposal" (RFP) to solicit bids from parties interested in purchasing the units. They will be sold as a lot, not individually. The RFP will provide details on how to qualify as a buyer and access to the units for inspection. The Authority expects to close on the sale sometime in November. Proceeds from the sale will cover the cost of disposition and the remaining balance will be escrowed for future affordable housing development, Rich said.
The units were built in 1983 and 12 of them are currently occupied. Rich said current tenants may seek to relocate to available public housing in Renovo, Lock Haven or nearby counties.