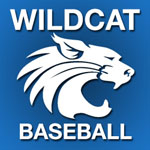 MILL HALL – It was a crisp, well-played game between two teams with post-season aspirations at Mill Hall Community Park Wednesday. And while Williamsport played a near perfect game, Central Mountain made a couple mistakes which proved costly in a 2-1 Millionaire win.
Both pitchers went the distance, Millionaire junior, Tanner Esposito with a dominant 3-hitter, the Wildcats', Ethan Watkins almost as good, giving up six early hits and two runs (one earned). Watkins got stronger as the game went on, finishing with four innings of hitless ball.
But Williamsport, now 13-3, bunched three hits into the third inning. Along with a hit batter and a walk, the Millionaires did enough to generate two runs. One scored on an RBI single from Elliot Walker; he would later score when Wildcat catcher Asher Corl attempted to pick him off third. The ball never got into the glove of third baseman Mahlik Houtz, ending up in short leftfield and Walker scampered home with what proved to be the margin of difference.
Central Mountain scored its only run in the fourth. Leadoff hitter Brandon Miller led off with a double down the first base line and Trevor Hanna and Corl both worked walks to load the bases. Miller scored when Austyn Carson hit into a fielder's choice. The Wildcats lost a base runner in the inning when Corl was caught between first and second, the second CM runner thrown out on the bases.
Esposito gave up two doubles to Miller and a single to Landon Breon for the Wildcats' three hits. He got into a couple jams late in the game but made the pitches when he needed to. His defense played well, committing one error.
Central Mountain too played great defense, including two double-plays, one on a pop-up to Hanna and another on a fly ball to Miller in center field who threw a strike to Corl at home plate who put the tag on a Williamsport runner trying to score after tagging at third.
The Wildcats, after a 0-3 start, finished the regular season at 13-7, winning 13 of their last 17 games. They now rest until the District 6 Class 5A title game, tentatively next Friday or Saturday, May 26 or 27 against Hollidaysburg at Altoona's Blair County Ballpark. Hollidaysburg is 16-1 and defeated the Wildcats by a 9-3 score in late March. The Golden Tigers are ranked second in the state, according to MaxPreps.
| | | | | | | | | | | |
| --- | --- | --- | --- | --- | --- | --- | --- | --- | --- | --- |
| May 17, 2017 | 1 | 2 | 3 | 4 | 5 | 6 | 7 | R | H | E |
| WILLIAMSPORT | 0 | 0 | 2 | 0 | 0 | 0 | 0 | 2 | 5 | 1 |
| CENTRAL MOUNTAIN | 0 | 0 | 0 | 1 | 0 | 0 | 0 | 1 | 3 | 2 |