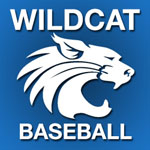 SUNBURY — What a difference five days makes. Last Thursday the Central Mountain baseball team struggled mightily to earn a 2-1 home field 12-inning win over Shikellamy (7-12). But Tuesday at the home field of the Braves, the visiting Wildcats scored five first-inning runs and never looked back, coming home with a 12-1 win and a share of first place with Jersey Shore. Both CM and the Bulldogs finished their league slates at 8-2. Central Mountain is now 13-6 with one regular season game remaining, a home showdown Wednesday with Williamsport (12-3).
Last week Shik's Logan Kern was spectacular, going eight innings and giving up five hits and one run. Tuesday was a different story. Kern was pulled after inning number one, touched up for five runs and four hits. The Wildcats would never trail as they piled up 17 hits after getting but five in last week's 12-inning win.
Winning pitcher Landon Breon was superb, giving one run, two hits, striking out 11 in six innings. Reliever Aaron Swartz pitched a scoreless seventh.
Breon, Mahlik Houtz and Austyn Carson led the hit parade with three each, Carson with two doubles and Houtz and Troy Gardner with one; Gardner also had a single. Asher Corl had two hits and singles came from Brandon Miller, Trevor Hanna, Swartz and Brady Eck.
District 6 Class 5A playoffs are to be announced later this week; they are expected to begin early next week.
CM 5 0 1 2 2 0 2 = 12-17-1
Sh 0 0 0 0 0 1 0 = 1-4-3